December 29, 2010
This is a compensated review by BlogHer and Jimmy Dean; however, the opinions and views expressed are my own.
New Years resolutions are frequently forgotten about one week into the new year. People often choose resolutions that are too tough to stick to or too much of a reach. I'm not going to make that mistake this year.
Instead of waiting until the New Year to start really getting into the workout mode again, I started a couple weeks ago and it's been going well. I know that it's difficult for me to get motivated to work out on my own, so I set up a bunch of personal training sessions with an affordable trainer who I've worked out with before. He's been busy making me sore and miserable (in a good way) for a few weeks now.
The best thing about him is that it's not all about pushing weights around. He's also talked to me a lot about nutrition and especially about protein. If you're going to work out in the morning, you need to eat protein before you go; and when you come home, a sensible lunch and a protein shake later in the day really make the difference between sticking with your workout plan and finding yourself elbow deep in a container of cheese balls.
Last week when I worked out with him, I had a bagel before I went to workout. Half way through our workout, I was dead tired. Today, I had a protein shake before going for my workout and the difference was unbelievable. It took longer for my muscles to fatigue and I felt stronger overall. And those kinds of feelings can become addicting, which is exactly what I'm hoping will happen.
Over the summer, I was one of the fortunate ones who got to spend some time with Jimmy Dean's "The Sun." He and a celebrity chef made me three different meals with different Jimmy Dean products, and I was a happy and full girl by the time the show was finished filming.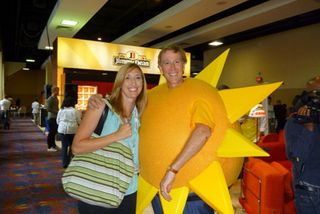 Recently, I was told about a new Jimmy Dean product called "D-Lights." This is the perfect way to get my protein each morning and I am looking forward to giving them a try this week.
For your chance to win a $100 Visa gift card, respond in the comments section below and tell me how you plan on making choices that are better for you in 2011. For the official round-up page, click here. 
The sweepstakes runs from December 28, 2010 to January 30, 2011 and is only open to individuals who, at the time of entry deadline, are legal residents of the United States and are 18 years or older.  Winners will be randomly selected from all eligible entries.  Click here for official rules.  Here are the basics:
Rules:
No duplicate comments.  You may receive (2) total entries by selecting from the following entry methods:
a) Leave a comment in response to the sweepstakes prompt on this post
b) Tweet about this promotion and leave the URL to that tweet in a comment on this post
c) Blog about this promotion and leave the URL to that post in a comment on this post
d) Read the official rules for alternate form of entry.
This giveaway is open to US Residents age 18 or older.  Winners will be selected via random draw, and will be notified by e-mail.  You have 72 hours to get back to me, otherwise a new winner will be selected.
Good luck!
Comments