September 23, 2014
When news first broke of the missing UVA student, Hannah Graham, I felt physically ill. There are entirely too  many children and young women who go missing in this country and beyond. It brought back Natalie Holloway memories from years ago, another missing girl, never found.  When you have your own children, it hits so close to home, especially when you see the Graham's, the mental and physical exhaustion and the overwhelming sadness and despair displayed like a billboard on their faces. As a Mom of a daughter who will be in High School next year, I know how fast they grow up. Middle school has flown by; High School will too. And then my girl will be off to college, and I will worry endlessly because of the world we live in right now.
The Hannah Graham case bothers me, in particular, for so many reasons. I can identify with her as I was once a college student as well. Those four years are when you taste your first bit of freedom and independence. The sudden independence can sometimes result in making poor decisions. I remember walking home by myself from work in the city of Pittsburgh, late at night sometimes. I remember getting tired of being at a party and walking down the hill to  my dorm, by myself. Those decisions were not in my best interest. I should have had a friend with me, or called for a shuttle. But I didn't have a cell phone back then, and I didn't really think about it being unsafe. I shouldn't have had to worry. A woman should be able to take a walk without expecting to be kidnapped, assaulted or killed.
The most disturbing thing about Hannah Graham's disappearance is that there are so many people who are blaming her for whatever has happened to her. There are tweets about her being dressed inappropriately; posts about her being drunk and stupid, and all kinds of other blaming language that makes me absolutely sick. Blaming her for the situation she's in because of her outfit is insulting to men too. Should men really have NO control over their desires when they see an attractive woman wearing a crop top? Making these kinds of statements is insulting to men and women alike.  Young women AND men should also be able to make a mistake with their alcohol intake without paying with their lives. It is a sad state of affairs when one night of overindulgence turns into a missing persons case. When I taught Sexual Assault Awareness seminars at the University of Pittsburgh and surrounding schools, I used to tell the attendees that a woman wearing nothing but cellophane is certainly asking for attention, but NO ONE is asking to be raped.
There are also those trying to turn this into a race issue. Two of the missing girls from this area are black. This is a missing girl problem, not a race issue. I don't care if the perpetrator is white, black or purple. I just want him/them caught and the girls to come home.  And if the last person who was seen with her is now on the run, it doesn't look very good for him. Why didn't he just tell police what he knew? His behavior alone makes him look guilty. If he has nothing to hide, then why lawyer up, refuse to talk, and leave town? Innocent people don't act like this. And if he truly is innocent and just scared of being blamed for something he didn't do, then he should want to help police with whatever information he may have that may lead to the right person. I don't understand that behavior; and I really don't understand a lawyer that could advise him otherwise, unless of course, he's hiding something.
Hannah is not the only girl to go missing from the Charlottesville, VA and surrounding areas either. Over the years, many women have gone missing from this area, their bodies never found (with the exception of Morgan Harrington, who should have been able to attend a Metallica concert without paying with her life).  A quick Google search for "Route 29 stalker" turns up some truly scary stuff.  Why are women going missing from this area, and why can't they find the person/s who's doing it?
The video surveillance they have of Hannah Graham on the night she went missing is disturbing too. In one, she's walking right to left along the mall. A man standing in a doorway seems to spot her and he slowly moves out into the crowd and starts following her. This is the man who has supposedly come forward to identify the person of interest. Perhaps someone should be taking another look at him. In addition, you have the person of interest, Jesse Matthew, who you see walking left to right, crossing the mall and then falling in step behind her as well. In other videos he's seen with her. What if they guy in the doorway is acting as a spotter? Why have the person of interest AND his two roommates vanished into thin air? What if this is part of a human trafficking ring, now on the move because the police began sniffing around? Human trafficking is this country's dirty little secret. Where I moved from, in recent years, multiple rings were broken up. My hometown was forming a task force to combat Human Trafficking. Human Trafficking's presence would certainly help to explain all of the people who go missing, their bodies never found.
I think the most disturbing thing of all though, is that on a personal level, there's yet another instance I need to talk about with my girls. There's another case out there that lets them know that this world is not the innocent and safe place I'd like it to be for them. In today's society, you have to be mistake-proof; because a single wrong turn on a street could mean you're gone. One too many drinks can mean you're vulnerable; and accepting a drink from someone can make you even more so. I hope and pray they find Hannah, and all of the other missing girls alive somewhere. The Cleveland case gives me some hope, although the torture those poor women endured is just beyond comprehension. Keep your eyes open for things that don't seem right. Report things that give you that funny feeling; and maybe, just maybe, we can make this world a safer place for ourselves and our children, and bring girls like Hannah Graham home.
If you haven't already, check out "Help Save the Next Girl." 
Recognize the signs: HumanTrafficking.org
Missing Persons List: do you recognize anyone?
Have you seen this guy or the car he's traveling in?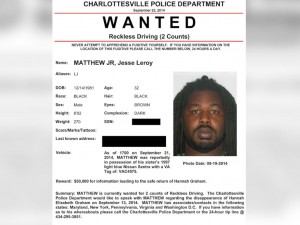 August 4, 2014
"This has been the most stressful summer of my life" is the absolute understatement of the century. I haven't had time to write, let alone do much breathing. In the spring, Mr. BBM was called by a recruiter about a position that sounded pretty intriguing. About a week later he had a phone interview. Within five days of that, he was flown in for a face-to-face interview. At the airport, waiting for his return flight, his recruiter called him and said he'd have an offer by the end of the week. I panicked as he got further along in the process. I won't lie. I prayed the offer would suck. The offer did not suck.
In fact, as I questioned Mr. BBM on each component of the offer, it became clear that there was no saying "no" to it. We had four days to make a decision, to completely uproot our family, leave the home we built just five years ago, and the swim club that I consider my 4th child. We ran a swim meet the next day, came home and grabbed our bags and drive five hours to Virginia. I couldn't make a decision to move us without at least seeing the place. We arrived very late at night and woke up on Mother's Day in the hotel to what could only be described as a place with nothing to dislike. The neighborhoods felt resort-like, the swim club had great reputations and phenomenal facilities. The cost of living is less. The decision was made.
We began preparing our house to sell and told those close to us what was happening. In between staging rooms at my house, I spent a lot of time crying. I have my entire family in Pennsylvania. All my best friends are here too. You don't just make friends like I have overnight. It takes a long time before you reach the comfort level we've reached with each other, and I was leery about starting the process all over again.
We went on a company paid house-hunting trip and saw 26 properties over the course of four days. We saw a few we liked but our favorite went under contract before we could even get a second showing. We left after those four days with no home prospects, and knowing our own house was going up for sale in only days. I am the type of person who needs to know where I'm going to land before I jump, and I wasn't going to have that option. I asked Mr. BBM what school district do your kids attend when you're living in the Homewood Suites? I didn't want to go.
The day the "for sale" sign was going up at our house, we got a call from our realtor, that our favorite house was available. The deal fell through. We put in an offer and held our breath. Because the selling family was also a relo family, the offer could not be contingent. We held our breath as four showing requests came in over the next three days. On the third night, we had three offers, all with escalation clauses. Our realtor was as shocked as we were. We chose an offer, removed the contingency and got our house.
In June, Mr. BBM left for VA, and left me behind with three kids as emotionally exhausted as I was. In July, the movers came, spent two days packing our entire house and two days loading our entire house. The truck pulled out and we lived with friends for 6 days before we closed on our new home. I made the trip in record time with three kids, two cats, two hibiscus trees I refused to leave behind, and an unhappy mom-mom who didn't want us to go either.
We have been in our house for almost three weeks now. We are adjusting to things, and are mostly unpacked. However, we're feeling pretty lonely without our friends and family from home. We have much painting to do in our new house, and a lot of getting used to how over-the-top friendly Virginians are when they don't even know you. This begins a new adventure for the BBM family. I hope you'll follow along.
March 7, 2014
As I come up on my 3rd anniversary of being Co-President of a USA Swimming aquatic club, I've learned many lessons. Although there have been a lot of great times, some of these lessons have been hard ones to learn. I've learned a lot about the nature of people, some good things and some bad things. I've learned that every situation has two sides to the story: the accurate story, and the one that will told by people who don't like you or your decisions. Some of the toughest lessons I've learned involve my kids, and how they'll be treated by others who are only concerned with themselves, and/or disagree with the club's direction. It's been a fun ride, for the most part, as this board, the coaches and I have worked to grow our club's success and create a lasting team culture. Some of the lessons I've learned are ones that could help others lead youth sports organizations, so I'd like to share.
1. Not everyone is going to like you. Learn to deal with it.
"I can not give you the surefire formula for success, but I can give you the formula for failure, which is: Try to please everybody." -Herbert B. Swope
For every 10 new friends I've made running this swimming club (and I've made a lot of wonderful new friends), I've probably made an enemy or two. It's never been intentional. It's just that, for the most part, many adults do not like to read or follow rules. While the people who dislike me can complain all they want about whatever their issue is of the day, the one thing they can't do is accuse me, or our board, of being inconsistent. We have worked tirelessly to create policies that protect the club and its swimmers and coaches; and lay the ground rules for our business practices. The other night a Mom approached me and told me that her swimmer just wasn't into it anymore. She said she'd like a refund. I politely told her, "no." She was shocked to hear this word. However, she signed the paperwork that says there are no refunds, except for documented medical reasons or a family relocation. She immediately acted angry with me, and went off to complain to another parent. To them, I'm Maleficent. To me, I'm a volunteer parent President who took on the duty of protecting the club's best interests, including the financial interests. Policies and procedures are really important to have and to follow, which leads me to my next lesson.
2. No matter how many policies and procedures you have, there's always going to be someone who tries to twist the words or the meanings to make them something they are not. Get an outsider's opinion and help.
Recently, we had an incident at our club that forced us to take a good, hard look at our policies and procedures for dealing with violations of our Code of Conduct. As a writing student in college, my professors used to tell me to write something and put it away. They said to always look at your writing with fresh eyes. Sometimes, when you've been staring at a policy for three years, all looks good.  Sometimes those "fresh eyes" need to come from someone else. So, we did what made sense. One of our swim parents is a lawyer and we asked him to sit down with us and take a look at our documents, waivers, etc. He didn't just take a look. He dug in and revised documents for future registrations. He identified weaknesses that we hadn't seen before. And he didn't just tell us about it; he got to work revising. He has become our volunteer legal adviser and he's taken a lot of the pressure off of the board, just by being available to consult with us. Tap the resources that are available to you within your group of parents. It never hurts to ask, and most of the time, people are happy to help.
3. Delegate and put it back on those who suggest it.
There are some things that can't be delegated, so take care of those things. But whatever you can delegate to reliable people, do. Last year, the woman who was making all of our holiday party and banquet plans offered to join our board as a Vice President. We jumped at the opportunity to bring her on board. There are so many people who have suggestions for things with the club; but one thing we've learned is it bat it back to the person who suggested the change and see what time they're willing to put in to making things happen. We have some parents whose swimmers wants to stay with the club through high school. Recently, I asked one of these parents to research what other clubs offer for high school swimmers. She was more than happy to do the research and report back, and I was happy to get the help. Then there are those who love to share their ideas and tell you all the things you should be doing, but wouldn't lift a finger to help get it going. Let their criticism fall on deaf ears (refer back to #1). Focus on the important stuff and don't take on too many side projects, especially those suggested by people not willing to help. But if someone is willing to take a lead on an idea that would benefit the club, you've just found yourself another volunteer. And that is always a good thing.
4. Team Culture is EVERYTHING!
There's one at every club. . . a parent who is all about their own child and could care less about anyone else. They attend no team functions. They don't care about what the other swimmers at the club are doing (unless they're beating their own kid). They feel that practices should revolve around their kid, and that no one else matters. They don't congratulate other swimmers on a job well done. They never volunteer to do anything, ever. These are the "black holes" that suck energy from your team culture. So what can you do about it? Not much during the peak of your season. However, you can focus on those contributing to the team culture and try to get everyone on board. But if that doesn't work, and you're a private club, you can make decisions about future enrollment. Have you ever heard the saying, "There is no 'I' in team?" Have you also heard the one that says, "I found the 'i" in 'team.' It's in the "A" hole"? It's very true. Promote the team culture all you can. But those who don't buy in. . . can find another team. Don't be afraid to drop in numbers initially if the long term pay-off will be a solid team culture and more committed families/athletes down the road. After a small exodus of "black holes" last year, our club came back bigger and stronger than ever before. It's a calculated risk worth taking.
5. Listen to what people are telling you.
We recently had try-outs for our Spring session at our club. One parent was going on and on about how her swimmer only wanted to do a "clinic," that attending a meet would be out of the question, that they would not be coming back next year because they were only looking for a quick fix and stroke work heading into the summer. You're not going to convert people like this into committed ones. It doesn't happen. Don't clog up lanes to raise numbers if you don't have to. A club should benefit an athlete, but the athlete should also benefit the club by being a team player, following the club's vision/mission, and truly wanting to be a part of the team culture. If they're not, say goodbye before it starts, and leave that space for someone committed to the team ideals.
6. Don't get caught looking backwards.
"Whenever you see a successful business, someone once made a courageous decision." 
One of the most important things a youth sports board should do, is focus on the future. Provide opportunities to educate your coaches. Look for ways to improve the club, grow the club (if you can't grow numbers, grow your competitiveness), and make people want to be a part of the forward motion. Change is always hard; but it's necessary if you want to move forward. After a couple years of general team malaise, our club has taken off. In virtual championship rankings, we went from barely making the top half to being the top third. Our national ranking moved up over 300 spots; within our LSC, we moved up almost 30 spots, and we continue to rise. Our numbers are strong and our kids continue to improve. As a club board, that's all you can really ask for. But you're only going to continue to rise if you're focused on the future.
"If you do what you've always done, you'll get what you've always gotten."-Tony Robbins.
Truer words were never spoken.
Are you part of a parent youth sports board? What lessons have you learned?
January 16, 2014
I taught for five years, so I never wanted to be THAT parent. . . the complaining one. But lately, my concerns feel like they're bubbling over, under pressure, to the point of explosion. In fact, it's getting so bad that I, the person who swore I would NEVER consider it, am actually starting to research home-schooling and cyber schooling. Former public school teachers don't usually go there. This one is about ready to go directly there.
Let's start with the gym teacher. He's the typical male middle school gym teacher, also the head football coach. I'm told by many parents that my kid just needs to get through his units. I had hoped for better than that. We pay a lot of school taxes. He's the type of coach from the Grease movie, the one who drives the golf cart around sitting on his unfit butt, while he yells at the kids to do things their growing bodies shouldn't be doing. Swim Girl has had to suffer through her second year of him this year. Last year, she ended up with a knee injury and months of physical therapy. Mind you, her injury didn't result from her year-round swimming, but rather from gym class. Take a second to chew on that.
This year, this "teacher" (I use the term lightly) has had them doing a muscle "endurance" unit involving resistance bands. That's all fine and good if the bands are the proper resistance and if he's insuring that the kids are using proper form. However, neither of those two things are happening. This week, just days before her LSC Elite Meet, she has a giant knot in her shoulder muscle, resulting from his carelessness and lack of proper instruction and supervision. Both her coach and her PT were shocked at the obvious trauma to the muscle.
I don't EVER do this, but today I wrote an email to him. I was extremely polite, and told him I would like her to avoid doing any exercises that could further injure her shoulder until . I told him that both her swim coaches and her trainer/PT told her she has a knot in her muscle and that she should avoid aggravating it any further. I offered to send in a lighter resistance band for her if he doesn't have a light enough one. I avoided chastising him about the fact that when my daughter asked him for a study guide today, he barked at her "get it later" despite the fact that she was in gym class right THEN; and asking for a study guide would imply that she actually cares about learning and would like to study. The reply I got from him makes my freaking blood boil. There is absolutely ZERO concern for her health and well-being from her so-called "wellness" teacher. There was nothing other than a terse response, a statement to tell me that "the unit is now over" (because I guess that's supposed to make me feel better), and then incorrect usage of the word "suffice."I don't know which part annoys me more. I was an English teacher; it's probably the "suffice" part.
In the past month, my daughter has waited almost a month each time she takes a math test to get her grade back. It's difficult to learn from your mistakes when they're not even fresh in your head anymore. This, mind you, is AFTER Mr. BBM and I have had a conference with him.  Another teacher has spent class time talking about murderers and rapists and how if they get a good lawyer, they'll likely get off and get away with it. Nice. And yet another teacher has told her about how her father held a gun to her baby sister's head when she was a kid. Because that is totally school appropriate. I'd LOVE to call them all out on all of this stuff, but I also know what that could mean for how my kid is treated the rest of the year. I have no expectation of professionalism when these are the daily occurrences.
I live in the district that has the highest test scores in the county, that does quite well when compared to other schools in the state and country; and here I am, seriously considering pulling my kid out of school. I was (and am with Sassy) so happy with the elementary school. I was even happy with the first year of Middle School. Is this year just a fluke? Do we just have "to get through it"? Will it get better? I thought being in the Gifted program would change things a bit. I thought she would be academically challenged. Instead she has read over 1400 pages this quarter (none of it at home) because she finishes everything early in school and has nothing to do.
The only thing holding me back from pulling her now is her art teacher, who happens to be amazing. But it's becoming more and more difficult to ignore the inappropriate things that are happening in her school. I send my 12-year-old into their care every day; and I do not appreciate them discussing things in class that I would never consider discussing in front of her at home. If you've decided to home school or cyber school, I want to hear from you, and I want to hear all about it.
November 26, 2013
When my friend asked me to go to the Bryan Adams concert with her, I was beside myself with excitement. I spent many summers of the 80′s, sitting in the shade of our birch tree, blasting my Bryan Adams cassettes as loud as they would go. I may not be able to remember much I learned in school during those early years, but I recall every word of his songs. It's funny how you don't even know those lyrics are there, sitting dormant in your brain, until the song comes on and you're right there, back in your childhood. It's amazing, music's ability to take you back to a much simpler time. The feeling that washes over your body and soul when you hear certain songs is like no other.
The concert on Sunday night was like that. My friends and I met for dinner, and we realized that our dessert conversation had lasted a bit long. After reading reviews of his "Bare Bones" concert online, I knew he was going to start with "Run to You," so that's pretty much what we did, from the parking lot to the theater. We ran to him. I wasn't going to miss it.
Our local paper reviewed the concert and started off with the line, "Bryan Adams' show Sunday night in Reading reminded him of cat pee." Really? That's the best opening you could come up with for the concert review?? Because the show reminded me of a simpler time, when singer/songwriters wrote songs about love that people could relate to and fall in love with. It struck me, while listening to his songs, that people don't really write like that anymore. Love songs have really changed, and not for the better. Bryan Adams would never write a song about "twerking." He seemed personable, humorous and completely down-to-Earth; he's someone you'd like to sit down with and share a cup of coffee. Our local paper also said he imitated Bruce Springsteen. I'm thinking the reporter may have been a bit off his game, because he made it pretty clear he was impersonating Blake Shelton, not Bruce. Can I be the new concert reviewer, please?
Dressed simply and with a "no frills" black curtain backdrop with a projected skeleton in the background, Bryan Adams got the spirited crowd going from the start, his voice flawless in delivery. The man hasn't missed a beat in all these years. With only a piano backing him up at times, the sound was still full and vibrant. The songs were delivered the way they were originally written. There were even a couple crazy 80′s girls there, screaming out to Bryan, "Can I get your number?" and making strange and inappropriate innuendo statements about "Summer of '69." My friends and I were busy rolling our eyes about those girls when Adams asked for a female volunteer, "a wild woman" who could dance.
It was an out-of-body experience as my comments about others suddenly turned into me standing straight up, waving wildly. I'm nothing if not a wild woman, and this girl can dance. And in fact, from previous posts, you all know my dream is to be a back-up dancer. So I stood there in the balcony, waving my arms and yelling out, "Bryan-UP HERE!" I had on what my sister refers to as my "Aerosmith pants." I mean, how could I not be chosen? In the end, he chose a girl on the floor in the first couple of rows. I'm going with the fact that it was super dark in the balcony. I mean he probably couldn't see me right?
Confirmed.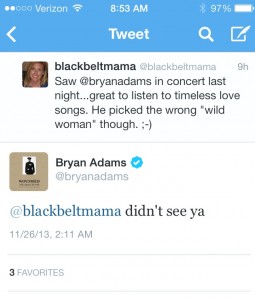 If you are a fan of Bryan Adams and he's coming to a city near you, you absolutely MUST go. He played so many of the classics that probably made you fall in love with him. It is a night out you won't soon forget!