December 29, 2010
This is a compensated review by BlogHer and Jimmy Dean; however, the opinions and views expressed are my own.
New Years resolutions are frequently forgotten about one week into the new year. People often choose resolutions that are too tough to stick to or too much of a reach. I'm not going to make that mistake this year.
Instead of waiting until the New Year to start really getting into the workout mode again, I started a couple weeks ago and it's been going well. I know that it's difficult for me to get motivated to work out on my own, so I set up a bunch of personal training sessions with an affordable trainer who I've worked out with before. He's been busy making me sore and miserable (in a good way) for a few weeks now.
The best thing about him is that it's not all about pushing weights around. He's also talked to me a lot about nutrition and especially about protein. If you're going to work out in the morning, you need to eat protein before you go; and when you come home, a sensible lunch and a protein shake later in the day really make the difference between sticking with your workout plan and finding yourself elbow deep in a container of cheese balls.
Last week when I worked out with him, I had a bagel before I went to workout. Half way through our workout, I was dead tired. Today, I had a protein shake before going for my workout and the difference was unbelievable. It took longer for my muscles to fatigue and I felt stronger overall. And those kinds of feelings can become addicting, which is exactly what I'm hoping will happen.
Over the summer, I was one of the fortunate ones who got to spend some time with Jimmy Dean's "The Sun." He and a celebrity chef made me three different meals with different Jimmy Dean products, and I was a happy and full girl by the time the show was finished filming.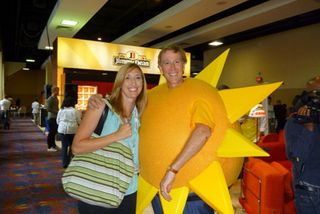 Recently, I was told about a new Jimmy Dean product called "D-Lights." This is the perfect way to get my protein each morning and I am looking forward to giving them a try this week.
For your chance to win a $100 Visa gift card, respond in the comments section below and tell me how you plan on making choices that are better for you in 2011. For the official round-up page, click here. 
The sweepstakes runs from December 28, 2010 to January 30, 2011 and is only open to individuals who, at the time of entry deadline, are legal residents of the United States and are 18 years or older.  Winners will be randomly selected from all eligible entries.  Click here for official rules.  Here are the basics:
Rules:
No duplicate comments.  You may receive (2) total entries by selecting from the following entry methods:
a) Leave a comment in response to the sweepstakes prompt on this post
b) Tweet about this promotion and leave the URL to that tweet in a comment on this post
c) Blog about this promotion and leave the URL to that post in a comment on this post
d) Read the official rules for alternate form of entry.
This giveaway is open to US Residents age 18 or older.  Winners will be selected via random draw, and will be notified by e-mail.  You have 72 hours to get back to me, otherwise a new winner will be selected.
Good luck!
December 20, 2010
One things I love about putting up Christmas decorations is how each decoration brings up so many memories.  I get to relive my childhood memories, remember those who has passed, and share a special time with my son as I tell him about each ornament.
Some of most favorite ornaments from one of my most favorite companies are the ornaments from Wendell August Forge.  Wendell August Forge  is America's oldest and largest forge creating hand-wrought metalware for over 85 years.  The company continues to be an American company producing American made products.  But better than that, they are a company that completely exhibits the American spirit.  Six months ago, their flagship store, an historic building containing precious items, burned to the ground.  And while this could have destroyed the company forever, the owners and employees dusted themselves off and flourish today.  Their strength and grace in such dire circumstances are an inspiration.  I loved this company before, but now I have a profound respect for their spirit and determination to continue to make American made, hand-wrought gifts for generations to come.
My newest favorite thing from the company is this: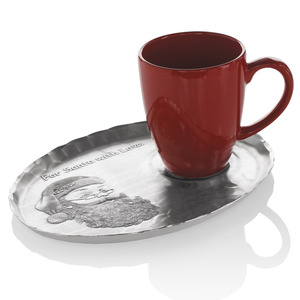 Look at this incredible For Santa with Love plate for Christmas Eve night.  Complete with the red ceramic mug for Santa's cocoa, Santa will be sure to stop by any house with this keepsake.  Santa is lovingly illustrated in extreme detail. When I asked my son what he thought of it, his response, after the squeal of delight, was  "that's great!"  This truly is high praise from a six year old.
There are so many amazing products by Wendell August Forge.   You can buy from them online, or visit one of their four locations.  Some of my most precious wedding gifts came from Wendell August Forge and I have a Christmas dream to add a fifth tree at our house with just Wendell August Forge ornaments. How amazing would that be? 
Can you tell how much I love this company?  If you need gift ideas, visit them and support an American company, producing American-made products, and who, quite literally, has risen from the ashes.
TKDDaughter gives Wendell August Forge, their To Santa with Love plate, and all their other items a resounding:

December 14, 2010
I am somewhat of a PJ conossieur. I live in them. Sometimes I never change out of them. I have to be honest though. My PJs aren't always that stylish. I'm perfectly happy in an oversized pair of flannel pants along with a fleece sweatshirt. The bedroom is one place in my life where I am simply not all that stylish.
Enter Soma Intimates Personality PJs.
When I saw there was a tour for pajamas, I was all over that. Soma Intimates offers a wide range of pajamas, but their personality pjs are brand new. You can find out what pair of personality pjs fits your personality best by taking this quiz.
Any guesses at to which one I am?
You might be surprised to know that my category was "chic" (followed closely by "wild"). Here is a picture of my pajamas, although that is not me and I tend to button mine up when I wear them.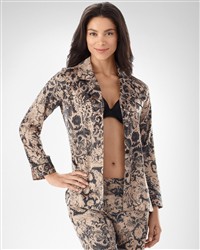 I'll be honest. At first, I was like, "Oh man, I wanted the blue ones." Everything I own is practically blue. However, once I put these on, I was pleasantly surprised. The lacy pattern in soft browns and black is very flattering and the satin material is super comfortable and a big departure from my flannel and fleece obsession.
I was worried when I chose my size that I picked incorrectly. However, their sizing is very true to size. In fact, it might even be a bit oversized. Normally, when I choose PJs, I go up a size, but whatever pant and dress size you are, that's what you should order. I could have possibly even gone down a size. It took me a while to get this review up because no clothing review of any kind is complete without a wash test. I'm the girl who buys clothes and wears it before washing it because I am terrified it will shrink. I have very long arms and legs. However, I was quite happy when they came out of the washer and dryer the exact same size that they went in there.  
If you're looking for a unique gift for someone, figure out their personality and get a pair of these PJs. They are luxurious, fun and true to size. I can't think of anything better than that (unless they were all blue, of course).
BBM gives the Soma Intimates Personality PJs. . .

I wrote this review while participating in a blog tour by Mom Central Consulting on behalf of Soma Intimates and received a pair of Personality PJs to thank me for taking the time to participate.
December 4, 2010
Until a few years after we got married, my husband was not a coffee drinker, so alone I would sit on weekend mornings, enjoying my cup of coffee.  Slowly, he began to join me and now needs his morning cup to get his day started, too.  Only thing is, I drink decaf mostly. I have a pretty severe reaction to caffeine, so I avoid it as much as possible.  So, my husband, who loves and often needs caffeine, is confined to a pot of decaf first thing in the morning.
This is what makes us love our Nescafe Dolce Gusto coffee machine even more-he can get his caffeine and I can stick with my decaf.  He also likes very sweet coffee, and I tend towards just a little cream.  My favorite is the Caffe Lungo Decaf-it's a flavorful, bold coffee, but no caffeine to make me crazy.  The hubby's favorite is the Vanilla Macchiato. My only issue with it – and it's a small and common issue- is that there aren't a few more decaf choices.  There are many other options, though, including cold beverages.  So whether you need a warm cup of comfort or a cold, refreshing beverage, the Nescafe Dolce Gusto is the right choice for anyone!
We are so happy with this machine.  It's the perfect addition to our kitchen "family" and has allowed us to enjoy the kind of coffee we want, whenever we want it!
TKDDaughter gives the Nescafe Dolce Gusto a:

"I wrote this review while participating in a test drive campaign by Mom Central Consulting on behalf of NESCAFÉ Dolce Gusto and received a coffee machine to facilitate my review."

December 2, 2010
Sleek.  Stylish.  Modern, yet classic.  A statement.
Never in a million years did I ever think I would  use those types of words about a…coffee maker!  Yet, here I am.  You see, there's a new addition to my kitchen and it's making all the other appliances.  Here it is: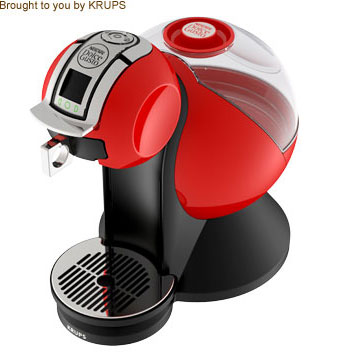 You see it now, don't you?  It's awesome!  It's the Dolce Gusto Creativa!
This machine is an instant update for anyone's kitchen.  And I'm telling you…your other small appliances are going to be turning green with jealousy.
Interested in this machine?  Come back tomorrow to read about how well it works and the flavor choices.  To tide you over until then, check this out.  See you then!
"I wrote this review while participating in a test drive campaign by Mom Central Consulting on behalf of NESCAFÉ Dolce Gusto and received a coffee machine to facilitate my review."