November 24, 2010
Did you know that November is National Diabetes Awareness month? Did you know that each year, over 15,000 children are diagnosed with Juveile Diabetes? Diabetes is a disease that hits very close to home for me. My Mom is a Type 1 Diabetic and has been insulin dependent for over 31 years. My Mom was diagnosed with gestational diabetes when she was pregnant with my younger sister. She hoped and prayed that it would go away, but it didn't. Hers was a rare, adult onset of juvenile diabetes.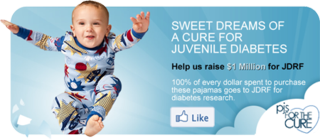 For many years, my Mom was tied to daily insulin shots (several times a day) and frequent finger sticks as she continually tested her blood. It sounds like more of an inconvenient disease, but there's much more to it than that. I remember coming home from school as a little girl to find my Mom unconscious and in insulin shock. She always took really good care of herself, but diabetes is an unpredictable disease and when you're a brittle diabetic, it makes it even worse. I can't even tell you how many times I saw my Mom disappear into an ambulance. It was terrifying.
Today, there have been many advances. My Mom uses a sensor that beeps and alerts her when her blood sugar is dropping. She also uses an insulin pump which eliminates the need for constant injections. However, the pump is a tethered reminder of her disease and she rarely gets an uninterrupted night of sleep without her sensor waking her up. It is a disease that robs you of many of your freedoms and it is life changing, not only for those who have it, but for the family members that face it as well.
I had just a brief taste of what it was like when I was diagnosed with gestational diabetes during my second pregnancy. The frequent finger sticks and blood tests were an annoyance and low blood sugars, after I took my medications, were scary. I was elated when I delivered and was told I was in the clear. However, it is something that is always on my mind. Diabetes tends to run in families and we are careful to watch our sugar intake in our household. Sugar doesn't cause the disease, but it's certainly an enemy of every diabetic.
This year, the JDRF has found an amazing way to raise money and I hope you'll join me in supporting the cause. Spearheaded by Komar, the largest sleepwear manufacturer in the United States, PJs For The Cure was created to benefit JDRF. PJs For The Cure offers specially designed women's and children's pajama sets and 100% of every sale from PJs For The Cure will be donated directly to the JDRF to fund further research to find a cure for juvenile diabetes. Their goal is to raise $1 million in support of JDRF. For more information and to support the cause, I encourage you to visit the PJs for The Cure Facebook page. Please "like it" and encourage your friends and followers to do the same.  You can buy your own set of PJs or just check them out here.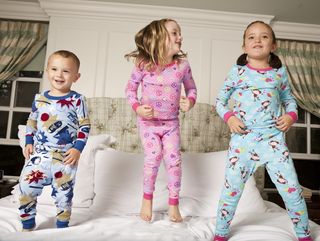 One lucky reader will receive a pair of the women's, girl's, or boy's pjs. Please leave a comment telling me your favorite thing to do in your pjs. Entries must be received no later than this Friday at midnight! Please check your email so you can shoot me back your name and mailing address if you're the winner! Good luck!
I wrote this review while participating in a blog tour by Mom Central Consulting on behalf of Komar and PJs For The Cure and received a gift card to thank me for taking the time to participate.
Comments