June 6, 2011
Everyone says that when you're pregnant with your third or beyond, you pop a lot faster. I don't know about that being true. They also say that if your abs are in good shape, your muscles hold that baby back closer to your spinal column longer. I entered this pregnancy the lightest I've been, compared to my other two pregnancies and probably in the best shape of any of the three too. It took a while for me to truly "show;" but now there's no doubt.
I'm 22.5 weeks right now and Sassy reminds me daily that my belly is "HUGE!" She has no idea how ridiculously huge I'm going to get. I remember with each of the girls, being 36 weeks pregnant and thinking, "I can't possibly get any bigger. . . " and then I did.
Yesterday, Mr. BBM and I were at Lowe's and decided to divide and conquer.  As I was walking aisle to aisle, people kept looking at me funny. One couple stood there and was obviously talking about me as I walked by. I started doing a mental inventory. Was my nose running? My hair sticking up? Did I have something on my shirt? On my pants? Why were people looking at me?
I met up with Mr. BBM and asked him if I looked ok. "Yeah, why?" he asked.
"People are looking at me funny. I just feel like something isn't right."
Mr. BBM started to laugh and pointed at my stomach. "It's probably because the only place you look pregnant is right there," he said. "It's comical. Most pregnant people don't look like you."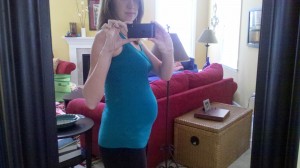 I looked down at my protruding stomach. It truly does look like I've swallowed a basketball. I still have the indentations at my waist. I can still feel my hip bones below the baby bump. Despite eating plenty, the only place I am carrying this baby is straight out front.  Following the gestational diabetes diet from the start has made a big impact. To date, I have gained only 4 lbs.  I am hoping that means this baby will be the smallest one yet with an easy deliver and that I'll be able to get back in shape quickly.  I am especially hoping that I am able to continue avoiding a gestational diabetic diagnosis. So far, so good. . .
Comments