Maybe it's because when my oldest started swimming, I was already friends with many veteran swim parents. Maybe it's due to the fact that I never really babied my girls, and have always done my best to teach personal responsibility and independence.  Quite possibly, it's just because I am a level-headed personal without anxiety or mental impairment; but I have never been that crazy 12 & under parent like the scores of them I saw this past weekend and over the past few years. There is a major difference between 13 and over sessions and 12 and under sessions, the main difference being the parents' level of cray-cray.  It's because I haven't been that crazy parent, that I can tell you how to avoid becoming one of "those parents." Because, you see, if I can tell swim parents how to avoid becoming crazy, then perhaps I won't have to continue to kick you off the pool deck, sometimes multiple times throughout a meet. Here are five things you need to know to avoid being that crazy swim parent:
1. Missing Races: It is 100% inevitable, that the vast majority of kids will either miss their event entirely, or come really close to missing their event at least one time in their swimming careers. Most swimmers who do miss an event, will only do so once. It's a tough way to learn, but I would venture a guess that most of the kids who miss an event never do so again. I'm going to let you in on a little secret as to the #1 reason that young swimmers miss their events. . . they have helicopter parents who think that it is better for their swimmer to hang out with them in the bleachers/stands, on the side of the deck somewhere, out at the concession stand, or in a hallway outside of the pool area. If your child is old enough to join a swim team, survive at a preschool, or go to elementary school, it is pretty safe to assume that your child will also survive a swim meet where they must sit with their team/coach and avoid talking to you. Allow your swimmer to experience a little independence, even if they're scared, even if they're young, even if you're scared. And if a swimmer misses their event, do not immediately assume that your child has been abducted and has left the building. (True story. Turns out the child was SWIMMING a race in the next heat while the mother was screaming and crying and searching all over the place and accusing anyone and everyone of child abduction.) Don't be this parent. Take off your propeller hat and sit in the stands like a big girl, unless you want your child living in your basement when they're 45.
2. The Super Cheerleader: I have this thing where once the first whistle blows, I will yell, "Go 'Fly Girl'" or "'Go Sassy'." It's sort of a superstition thing. Most swimmers (and their swim parents) have some type of superstition. For example, my oldest will not brush her hair on the day of a morning meet. I used to yell all during the races for my girls, not to the point where those around me wanted to kill me, but enough to make me feel like my words were pushing them a little faster. Then I asked my oldest if she ever heard me when I was yelling for her. Her answer? "Well, when I'm swimming breast stroke, all I really hear is 'ahh' pause 'ahh' pause." That cemented it for me. Unless the race is SUPER close and I am absolutely CERTAIN that only my cheering will get her to the wall first, I pretty much keep quiet. (Those of you who were seated near me when Fly Girl took 1st by a ridiculously small margin at a big meet last March, shhh. That never even happened.)
There is a woman in my previous LSC who is notorious for being the most obnoxious parent in the stands. Her husband videotapes each race while chewing gum so fast I can't imitate if I try; and his wife stands and wiggles (think convulsions), while screaming in this shrill, absolutely mind-splitting voice as she CONSTANTLY repeats her son's name over and over. Once I thought my friend was going to be knocked unconscious, because she also shoots random fists out in the direction she wants him to go in. At the end of the race, she thrusts her elbow back past her hip and screams "Right on SCHEDULE" which makes every parent in a 15 ft radius instantly feel capable of murder. Your child CAN NOT hear you, so watch your volume and PLEASE think of the ears of those surrounding you, especially those right in front of you.
3. Pre-Plan Meet Snacks: I can not tell you how many bags of goldfish crackers I hand-delivered to "starving" children this past weekend at the meet. One man tried to storm right past me, clutching the crackers to his chest, like he was carrying a football past a defense-man. My girls bags are LOADED with snacks, more than they could ever possibly consume. They have peanut butter oatmeal energy bites, granola packets, tons of fruit, usually a sandwich, a water bottle filled to the top with ice and water, and I can count on zero hands the number of times they've come asking me to get them snacks during a meet this year.  Plan ahead and spare your child the starvation, and the meet marshall the frustration of having to chase you down and ask you to leave. You are not allowed to deliver food on deck. Period.
4. Be a Parent, Not a Coach: There is a reason we shell out good money for swimming programs. It's because my husband and I are not swim coaches. The girls need instruction from knowledgeable people. We are great at telling them what a wonderful swim they had. We are awesome about shuttling them to and from practices and meets. We volunteer for the swim club and get on board with our team. We do NOT question the coaches. Not ever. At our previous club, we were co-Presidents. I knew our coaches quite well and spoke to them frequently about matters regarding the club. Occasionally I asked their opinion or for their help with something related to swimming. But I knew my role and I played it. I am NOT a coach. Parents of 10 & under swimmers who think they are coaches to their kids are not doing their kids any favors. Choose to be the parent, and leave the coaching up to the professionals. Also, your reading of every swim article and book you can find does not make you a swim coach.
5. Stop Acting Like Your Kid is Going to the Olympics: There is not a single 10 and under swimmer who holds a world record for anything swimming related. Not one of them. How your child swims as a 10 and under swimmer (and frankly, you might as well include 12 & under in this group too, and you could potentially even include 14 & under. . . ) is zero indication of how good your swimmer will be later on. Don't believe me? See for yourself.  Only 11% of Top 16 swimmers as a 10 & under are still ranked by the 17-18 age group. Roughly HALF of the top swimmers develop AFTER their Junior Year in high school.  Take a minute and soak that in.
This is now our 6th year involved in swimming and I can not tell you the number of 12 & under swimmers I've seen who were really something special at a young age. Almost like magic, many of them turn 13+ and they're not even swimming anymore. All those young years of examining videotapes, and looking for the edge over other swimmers are absolutely pointless. It's hard not to get caught up when you see your child performing extremely well and continuing to improve. However, for many, there's a hard wall coming; and most times, that wall is hardest hit by the parent as they watch their own Olympic stands dreams fizzle out.
When we knew we were moving and were interviewing coaches and looking for a new swim club, something one of the coaches said struck us both. A top coach in USA Swimming whose club is consistently ranked among the best in the country, had some insight on 12 & under girls. He said that even the worst coach can take a 12 & under female swimmer and "wring her out," meaning that girls this age will continue to do what they're asked to do without question. You can drive them into the ground with extra practices and a push for more and more yardage. You can add on dry land and start hitting weights and you'll see rapid fire improvement. You'll feel you're on the right course and so will your swimmer. . . until they hit the inevitable wall. They reach a point of complete and utter physical and mental exhaustion after years of being the "yes" girl. Don't be tempted by coaches who claim they can make your 12 & under a national champion. Don't buy into every specialized program made just for swimmers, because it's really the money they're looking for; and like this coach told us, any coach can wring out a 12 & under girl. But she'll have little chance of a future in swimming. And wouldn't it be a shame to waste all that time and energy for such a short career that no one will even remember? There are many Olympic swimmers who didn't start swimming until well beyond the 12 & under window. Starting young and being a phenom at an early age is not an indication of future success; but it could be an indication of future injury and major burnout. Don't be that parent.
There you have it. Take it or leave it. If you're one of those parents, you're likely to leave it. But perhaps I can catch some of you newbies and guide you down the path that won't make veteran swim parents want to wring your neck. You're welcome.
When my friend asked me to go to the Bryan Adams concert with her, I was beside myself with excitement. I spent many summers of the 80's, sitting in the shade of our birch tree, blasting my Bryan Adams cassettes as loud as they would go. I may not be able to remember much I learned in school during those early years, but I recall every word of his songs. It's funny how you don't even know those lyrics are there, sitting dormant in your brain, until the song comes on and you're right there, back in your childhood. It's amazing, music's ability to take you back to a much simpler time. The feeling that washes over your body and soul when you hear certain songs is like no other.
The concert on Sunday night was like that. My friends and I met for dinner, and we realized that our dessert conversation had lasted a bit long. After reading reviews of his "Bare Bones" concert online, I knew he was going to start with "Run to You," so that's pretty much what we did, from the parking lot to the theater. We ran to him. I wasn't going to miss it.
Our local paper reviewed the concert and started off with the line, "Bryan Adams' show Sunday night in Reading reminded him of cat pee." Really? That's the best opening you could come up with for the concert review?? Because the show reminded me of a simpler time, when singer/songwriters wrote songs about love that people could relate to and fall in love with. It struck me, while listening to his songs, that people don't really write like that anymore. Love songs have really changed, and not for the better. Bryan Adams would never write a song about "twerking." He seemed personable, humorous and completely down-to-Earth; he's someone you'd like to sit down with and share a cup of coffee. Our local paper also said he imitated Bruce Springsteen. I'm thinking the reporter may have been a bit off his game, because he made it pretty clear he was impersonating Blake Shelton, not Bruce. Can I be the new concert reviewer, please?
Dressed simply and with a "no frills" black curtain backdrop with a projected skeleton in the background, Bryan Adams got the spirited crowd going from the start, his voice flawless in delivery. The man hasn't missed a beat in all these years. With only a piano backing him up at times, the sound was still full and vibrant. The songs were delivered the way they were originally written. There were even a couple crazy 80's girls there, screaming out to Bryan, "Can I get your number?" and making strange and inappropriate innuendo statements about "Summer of '69." My friends and I were busy rolling our eyes about those girls when Adams asked for a female volunteer, "a wild woman" who could dance.
It was an out-of-body experience as my comments about others suddenly turned into me standing straight up, waving wildly. I'm nothing if not a wild woman, and this girl can dance. And in fact, from previous posts, you all know my dream is to be a back-up dancer. So I stood there in the balcony, waving my arms and yelling out, "Bryan-UP HERE!" I had on what my sister refers to as my "Aerosmith pants." I mean, how could I not be chosen? In the end, he chose a girl on the floor in the first couple of rows. I'm going with the fact that it was super dark in the balcony. I mean he probably couldn't see me right?
Confirmed.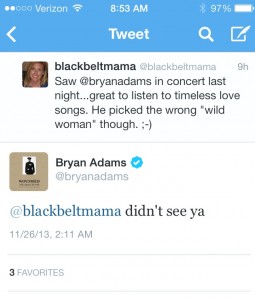 If you are a fan of Bryan Adams and he's coming to a city near you, you absolutely MUST go. He played so many of the classics that probably made you fall in love with him. It is a night out you won't soon forget!
When Mr. BBM suggested we go to the JT concert for our anniversary, I was kind of surprised. I had imagined a weekend away, somewhere quiet, where we could catch up on sleep. Exciting, I know. But with a 12, 8 and 2-year old in the house, quiet and sleep are two things that are in short supply.
I spent weeks planning my outfit for the occasion. I haven't had a night out in a big city in a long time. Clearly all the other chicks there thought high black boots were the way to go too. At least I knew I was still somewhat "with it."
So we went to the concert and had an amazing time. There's something about being a woman and knowing you're breathing the same air as JT. It is instantly exhilarating. I couldn't help thinking as I screamed, "Oh My GOD, he's coming right here!" that perhaps this is not what Mr. BBM had in mind for our anniversary. Me, him and JT. . . and me screaming with utter joy when the stage began to move and he got closer to us by the minute. I left that concert completely "love-stoned." No joke. Minus the beer-soaked jacket thanks to some klutzy girl sitting behind me, it was a night I won't soon forget.
But instead of just enjoying the concert, there was this nagging feeling deep inside. I should have pursued a career in the music industry. I should have been a performer's manager. I should have been a back-up dancer. Heck, I'll be the girl that stands on the side of the stage and hands the man water when he needs it.
We spent the night in Philly and came home to our three awesome kids. Little Man followed me around 24/7 and kept hugging me and kissing me. Parting so I could go to the bathroom was almost too much for him. The girls picked up right where they left off with the sibling rivalry and non-stop arguments. Mr. BBM and I couldn't help but look at each other occasionally and mouth, "let's go back." We rarely get a minute, let alone a night, to ourselves. It truly was amazing.
Days later though, as I drop off the dry-cleaning and pick up ingredients needed for dinner, organize Little Man's toys and go about the business of laundry, the feeling lingers. It's clearly a JT hangover. The concert was incredible and I can only imagine how cool it would be to be a part of it, day after day, night after night. Can you imagine what it would feel like to be a part of putting on that production? To be a dancer within feet of such an incredible celebrity? To be one of the behind the scenes people who makes it all happen?
Swim Girl and I were having a conversation in the car the other night about it. "Do you wish you were doing something different?" she asked me. It's a tough question to answer. I think every stay-at-home mom who made the choice to put career aside for her kids would jump at the opportunity to do something extravagant, to go on a worldwide tour. I've been thinking about my choice a lot lately. There are things we'd like to do with our house, places we'd like to travel, but we can't right now. I would never want anyone else raising my kids. We've certainly made the sacrifices so that I can be home when they get home from school, so that none of them ever had to go to a daycare setting. But it also meant putting aside the dream of being a big-time magazine editor or writer, navigating the streets of NYC with ease. Also, that whole dream of being the next Madonna, but better and without the gladiator boob contraptions.
So I have it all figured out. JT needs to hire and train me as a back-up dancer (social media genius or even as security!). I'll need a bus all my own, equipped with enough beds for my family, and internet access so Mr. BBM can work from the road. I also need a nanny. I'll home school the kids during the day; we'll travel the world and consider that a year-long field trip. At night, I'll pop my strawberry bubblegum on stage while my kids chill in the trailer watching Disney movies or finish up their homework. Yep, I'll be "That Girl," the one who has it all. Who says I can't?
On Sunday, I bought Swim Girl a new dress for her National Junior Honor Society induction. She tried on a bunch of dresses and chose the one she liked.
Today, she put the dress on and took a good look at herself in the mirror. I don't know what happened between Sunday and today, but whatever it was, wasn't good. She started complaining about how ugly she looked, how everyone would make fun of her. The dress, a simple shift dress in greens and blues, looked pretty on her. She looked exactly like a 12-year old girl should look. . . her age. She felt it was too loose around the waist and wanted something to tie around the dress. The waist-tie to her white sweater was nowhere to be found, so with five minutes until we needed to leave, I ran upstairs and searched my closet for something that might work. I found a sweater that tied in the front and brought it down to her. I also grabbed a bunch of pretty barrettes that matched the dress, bought at Charming Charlie's a while ago.
I helped her fix the sweater and put a carefully placed barrette in her hair. She stood in front of the mirror and said, "I'm so ugly." She attempted to rip the barrette out but I insisted she wear it. We told her to put her chin up and be happy. This was going to be a big night for her! She moped all the way to school.
We arrived at the school, grabbed a program and found seats. Just as I was settling in, Mr. BBM says, "She's not in here. She's not in the program." I scanned it myself and found her nowhere. Another Mom suggested that maybe she was put with the wrong grade. She wasn't. I told Mr. BBM he better go tell someone. I imagined them reading names out of the program and my poor Swim Girl standing there, never being called.
Mr. BBM found the principal, told him and he was immediately off to tell the presenters to add her name. After he came back, he announced that a couple kids had been left out of the program, but that they would be printing new ones for all of us tomorrow. He speculated that these kids had turned their papers in late. I know Swim Girl turned it in just two days after her acceptance, a week before the due date.
The ceremony began and the NJHS officers were the main presenters. When it was time to read the names of the 6th graders, they called the names so quickly that the kids were practically running across the stage. When they said Swim Girl's name, they butchered her last name beyond recognition. It's not that hard of a last name. It's five letters for God's sake.
She made her way across the stage, shook the officer's hand and waited in front of her guidance counselor for her certificate. He scrambled for a bit, looking through the pile as the presenters continued to rattle through names at warp speed. Eventually he told her he didn't have one for her and she left the stage empty-handed. I could tell she was devastated. The girl should not ever play poker.
I felt a knot in the back of my throat. My Mom looked like she was going to cry, and I just wanted to stand up and scream that it's just not fair.
I'm sick of my girl getting the short end of the stick. I'm sick of her being treated like a door mat by some of her supposed friends, and I'm incredulous that the school where she is subjected to snide comments by rude kids is now also the school that called her onto stage, only to send her away with nothing.
When the ceremony was over, one of my good friends came to talk to me and to hug Swim Girl. She had watched it like everyone else. She whispered something in Swim Girl's ear which prompted a feeble attempt at a smile. As we stood there and I had to start chasing Little Man, the guidance counselor came over and began apologizing to my friend, thinking she was Swim Girl's Mom. My friend pointed out his mistake and he turned to apologize to me. He said she'd have her certificate tomorrow morning, and I nodded and said "thanks." I hope my non-poker face told him the whole story. I'm not happy. It's an oversight that never should have happened, especially when you're dealing with the already fragile psyche of a middle school girl who already feels like an outsider, the forgotten child, the ignored friend. He couldn't have picked a worse time or kid to forget.
I'd like to tell them exactly what I think about her being forgotten. I'd like to scream, yell, and let them know how irritated and disappointed I am that they did this to my daughter. But what's done is already done. Nothing can take away what happened, or how she felt; and there's nothing that's going to make it better.
I encouraged her to run for an officer position within the NJHS. That way, she can help to insure that this kind of thing doesn't happen to anyone else. But right now, her confidence is completely shattered, and that's not going to happen unless we figure out some way to repair it.
Swim Girl has been begging me to home school her the entire year. I've told her "no," on many occasions and expressed to her how important it is to be part of the school, how she wouldn't have access to her amazing art teacher, or events like this. I just lost Exhibit B in my case for her staying there. Instead of being a night to remember, it's one she'd like to forget.
On Friday, November 23rd, I went to Ann Taylor Loft, trying to find an outfit for two holiday parties I had this past weekend. I found something I liked, but the pants  were a bit too short, as they always are unless I order a tall pair online (They do not carry tall sizes in stores).  I figured I could tuck the pants into some boots and "make it work" Tim Gunn style. However, when I brought them home and started thinking about it, I realized that it is ridiculous for me to own a pair of pants that I can only wear with boots. I went online, found a similar pair of pants in a tall size and ordered. Standard shipping takes 5-8 days. So, I paid $14.95 for shipping so that I'd have them on the third business day. I didn't want to be without pants for the party, and thanks to my nursing-for-a-year body, I'm a rail right now so there are no pants that fit me in the house.
Let's review. I ordered them Friday, the 23rd of November,  at about 4 p.m.
I emailed Loft on Tuesday because when I clicked on the tracking number, it gave me a message that said a label had been printed but that the package had not yet arrived at the UPS facility. I was concerned. Their customer service person told me I'd have my pants by Wednesday at 7 p.m. She told me if I didn't, to call back then.
Guess what didn't show up by Wednesday at 7 p.m.
Because I'd had the day from hell, I asked Mr. BBM to please call customer service and find out where my damn pants were. He told me it was unlikely they would talk to him because he isn't me. I told him to tell them he was me, but with a head cold.
The phone call basically went like this:
Mr. BBM (in girl voice): "Hello, this is Jessica."
Loft Person: "Um sir, you don't need to do this."
And then they pretty much told him they have no idea where my pants are. They're pretty much Osama Bin Laden, circa 2004. While on hold with Loft's customer service, Mr. BBM called me on my cell phone. I was en route to another mall with my Mom to try to find different pants. I answered the phone via my bluetooth van connection so my Mom was privy to the conversation. Mr. BBM started to tell me I wasn't going to have my pants, and what happened next was an adult-sized temper tantrum of epic proportions.
"You tell them to OVERNIGHT ME a NEW PAIR of PANTS!" I told him.
"Yeah, they're not going to do that. It's past 3 p.m. so they couldn't overnight until tomorrow and they don't deliver on Saturday" he said.
I flipped out and said a lot of things my PG blog can't handle and I'm pretty sure my Mom was wondering how she had ever given birth to this spawn of Satan who was spewing out F-bombs about pants. But I was completely done with the day and the whole situation and I just couldn't help myself.
While Mr. BBM negotiated a refund on the $14.95 shipping and a $10 gift card (not e-gift card because I had sworn to him I would NEVER EVER get back together with Loft online-yes, Taylor Swift style), I decided to stop at White House Black Market, where they actually have pants with at least a 33″ inseam IN STOCK.
I found a new outfit there for the party and came home.
Rewind to Monday. . . I was hoping to find a stocking holder that matches the other two I have for the girls for Little Man. I happened to find one online that a woman in Virginia was selling for $2. I paid her via PayPal and took a chance she was not a serial killer or thief when I gave her my address so she could mail it to me. It arrived on Wednesday. . . before my promised pants. A random Craigslist person is a more efficient and trust-worthy shipper. Seriously.
Today is Monday, December 3rd. This morning, my $10 Loft gift card, the "apology" for not sending my pants on time, arrived on my doorstep. The apology arrived BEFORE the actual pants. If they don't arrive tomorrow by 7 p.m., Loft will launch an "investigation," comp my pants and send me a new pair, which, you know, if I'm lucky, might show up by July. Velvet pants are so in during July.