She stands 48″ tall and she's only 6 years old. Her little butt is so small that we've nicknamed it the "tiny heiney " We don't normally sit around talking about our daughter's butt; however, when she's trying to find a competition suit that fits, the tininess of her heiney becomes a big issue when you combine that with her height. After three years of being dragged to swim meets for her sister, and having to listen to long conversations about how amazing and wonderful "Swim Girl" did at her meet this weekend or that weekend, Sassy has finally arrived on the competitive swimming scene.
Last year, she spent the year working on stroke refinement at her swimming club. The previous spring, we had to remove her from the program because she was not yet ready. During the past year, she did two dual meets for fun. At the first one, she pushed off from the wall, turned around and asked her coach what stroke she was supposed to be swimming. Between that one and the meet a month later, she dropped about 20 seconds of time. (It's amazing what happens when you just swim and don't have to ask for directions.)
This summer, she decided she wanted to swim on the summer team. We have a very big, and very competitive swim team and she showed up in the 8 & under group worried about how she'd do. We were worried she might get lost in the shuffle. But she hasn't, not one bit.
After two laps of freestyle, she was put into the more advanced group of the 8 & under swimmers. During her first meet, she swam in three events and did quite well. Although she was exhibition in both 25 freestyle and 25 backstroke, she came in first in both of her heats, easily. She also swam in the free relay and did really well. (Lane 1-closest to the camera.)
On Friday night, we took her to her first invitational meet. It was a long course pool so instead of swimming 25's, she had to swim 50's of both freestyle and backstroke with no wall to grab onto for a breather. She swam her 50 free in under a minute, coming in 7th place overall in the 8 & under division, ahead of many 7 and 8 year old swimmers. She swam her backstroke in a little over a minute, coming in 7th place overall and beating many kids who were older than her.
Last night she had another dual meet. I was shocked to see she was not swimming exhibition. I had a moment of panic, big fish in little pond-little fish in big pond and all, and then figured it didn't matter. She's 6. Let's just see what she does.
She ended up coming in 4th place in the 25 free and 3rd place in the 25 back. Her free relay won 1st place by a good 25 meters at least, and that was with two of the relay swimmers (Sassy included) waiting to jump off the side until they were really sure the other person had truly, indeed, touched the wall.
After living in the shadow of her sister for so long, she is finally making her own little waves and I am so incredibly proud of her and all of her hard work. She has a couple invitational meets coming up and I am hoping and praying she does well enough to earn at least a ribbon. She has approached it all with such a winning attitude that she really deserves it. The little sister no one ever saw coming, is here.
If you told a typical 9-year-old that she would have to wait a year to see hard work pay off, it's likely she wouldn't believe you. It's likely that the end date is too far away for her to see any value in the hard work right now. As an educator, you study a lot about intrinsic motivation versus extrinsic. You read about creating small, measurable goals, and about creating rewards that are given in a timely fashion. They can't be too far out or else the student may lose focus and motivation. But that isn't what I saw over the past year.
Big I had a rough summer last year. After swimming her first winter season and then having to move up to the 9 & 10 age group (flip turns, double the length of events, etc.), she spent the summer swimming exhibition and near the bottom of every single invitational results list. Monday's were the worst. After the weekend's invitationals, she watched her friends and teammates go home with trophies, medals and ribbons and she always went home empty-handed. It would have been easy for her to get discouraged and quit the sport entirely. But she didn't.
Thanks to the guidance of some of our friends with several older swimmers in their family, they told us to get her focused on her times. So we did. I started a notebook and kept track of every meet time. If she came in last, we would rejoice that she had knocked two seconds off her time. I didn't know if it would work, but it did. She got extremely focused on her times and she knocked time off in every single meet.  She started a journal with goals she created for herself and she started being able to cross them off when she met them. It was sometimes still hard on Monday mornings, but we just kept reminding her that it was about her own swimming, her own times.
This winter, she continued to improve and she had a great fall/winter season. We did a minimal amount of meets, allowing her to focus more on endurance training and her stroke development. She didn't say it, but I swear she went to every practice and worked hard so that she could show up at summer swimming and show how much she had improved. It was a big part of her motivation. She turned 10 in the spring and moved to the top of her age group.
On Wednesday night she had her first dual meet. There are a ton of kids on her swim team and we fully expected her to swim exhibition events again. After being on vacation and only attending one practice before the coach put the line-up together, she wasn't hopeful. Her coach had only seen her swim in one, hour long practice. But when practice was over, she was all smiles. She was swimming two relays and an individual event. . . for points. That was a first.
She was a nervous wreck because she wanted to do so well. . . and she did. Her medley relay, where she swam freestyle, got 1st place by a mile and she extended the lead when she dove in. In her individual 50 butterfly, she came in 3rd and she didn't miss second (or even first) by that much. In the free relay, she started the team off, swam a great 50, touching either first or just a fingertip behind first.  Her relay placed 2nd by just a touch. And she achieved her best times ever.
Last night, we went to her first invitational meet of the season. Her seed times were from last year. This was her very first time swimming in a long-course meet. In the 50 free, she blew her seed time away and took it from last year's 59 to a 38.02. She earned a third place trophy (her first swimming trophy ever) and also won her heat. In backstroke, she touched the wall second in her heat and blew her seed time away again, earning another 3rd place trophy. In breaststroke, she won her heat and a 4th place medal; but get this, she was disappointed because she knew she hadn't achieved her best time. "I can do better than that," she said. Finally, in the 50 fly, she won her heat easily and took another 3rd place trophy. In three of her four strokes, she achieved her best times ever. She started out the winter with "C" times and her goal was to make it to "BB." Now, with the exception of one event last night, she easily achieved "BB" times and is knocking on the door of several "A" times.
She waited a whole year to take home a trophy, yet her breaststroke time continued to bother her on the ride home last night; and she is hell bent on fixing it at her next meet.
Last year, I rejoiced when she swam a legal race and didn't get disqualified. I hugged her and squeezed her when she dropped a second off her times and happily pointed out that she hadn't come in dead last when the results were posted each meet. Sometimes we simply celebrated because she hadn't been DQ'd. We celebrated the little things and I think it has really paid off. I didn't hear bragging last night; I saw a big smile after each race, and I heard her congratulate other swimmers on their successes. It is good she started off swimming exhibition; it was beneficial (although sometimes especially painful for me) to see her name at the bottom of those results lists last year. She has an appreciation for her current success and she has definitely learned an important life lesson, that hard work truly does pay off.
In her mind, she swims a 16 second 25 meter freestyle. Her butterfly is flawless and she moves through the water like a dolphin. She doesn't think it's a big deal at all that she still lifts her head straight up to take a nice long breath (and possibly have a conversation with someone standing nearby), while grabbing the side of the pool, to get ready for another whole three strokes. Yes, in her mind, she is practically an Olympic qualifying swimmer.
The reality is that she is 5 years old and wants to be just like her big sister. She's not there yet, but her mind tells her she is ready.
She's not.
Last night, Sassy tried out the 8 & Under program at Big I's swimming club. We signed her up during the winter for the 6-week spring session. She had started taking private lessons and was doing really well. Enter broken tibia and long cast for four weeks. It was a major set-back. After spending almost four full weeks in physical therapy, she was just released last week. The leg injury brought all kinds of challenges for her. When she finally got back in the water, it was like she completely forgot how to do backstroke, something she was doing just fine weeks earlier. Everything suffered and she fell behind.
Her coach didn't think she was ready and neither did I. So on Monday, she sat with me and watched her sister swim. She also watched the 8 and under's practice. On Tuesday she told me that she wanted to try.
So last night, she suited up a good two hours before practice started and packed her swim bag all by herself. She was so excited and determined. When it was time for practice to start, she marched her tiny little body over to the lanes without a glance back in my direction. She got in the water, last in her lane, and set out on a long lap of freestyle. She made it to the first set of flags (about seven strokes) and then lifted her head straight up to breathe. She also grabbed the wall and had a conversation with her coach. She dug right back in and went another three strokes before grabbing the wall again. It was absolutely painful for me to watch. She wanted it so badly, but it was plainly obvious she's just not ready yet.
She finally made it to the end of the pool and prepared to go back, another 25 of freestyle. This one was even slower, more deliberate, and involved much more doggy paddle and wall holding. The one coach motioned for me to come down. It was over, a valient attempt.
As I made my way to the end of the lane to retrieve her, her coach said, "She just needs to get stronger. I feel so bad because she wants it so badly and she is trying SO hard." I told her not to feel bad. She had tried and she would come back when she was ready.
I met Sassy at the end of the lane and grabbed her little hands to help her out. I told her she did a great job and that she was all finished. She looked confused. As we walked around the pool, I told her I would help her get a shower and get dressed, and that she just needed some more lessons before starting at the club program. She stopped in her tracks, looked up at me in disbelief and said, "But I am doing it!"
In her head, she's a mini Dana Torres, and when she is finally ready. . . look out.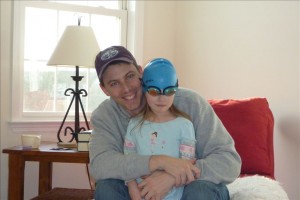 In August, Big I came to me and made a request. She wanted to quit ju-jutsu so she could concentrate more on swimming. After she failed to achieve county qualifying times for a single event and after missing out on a ribbon at the novice meet too, I was a little surprised. In the past, she tried t-ball and field hockey. Neither of them held her interest and she wanted to quit almost as soon as she started. I figured that swimming would have discouraged her too. As she watched her friends collect trophies and ribbons, I feared that her motivation to continue would wain.
It didn't.
She asked me for private lessons in August and I immediately signed her up. I also signed her up for a 6-week fall training program at a local USA swimming club. She had the opportunity to swim up to five days a week. She usually swam three days a week, plus her private lessons. She started to improve; it was obvious; but without any time trials to really know, we could only mark her improvement visually. Her strokes looked better. Her endurance was definitely improving. It was neat to watch.
Each week of the fall program, Big I would come home from school on Monday and tell me what her week looked like homework-wise. Then, she would plan out which nights she wanted to swim. She made herself a schedule, got her homework done on time or ahead of time and never complained about going to swim for an hour each night.
As the end of the fall program approached, we figured she had improved and we would take her back to the school's age group swimming program. We thought we would let her experience a little success. We knew USA swimming was highly competitive. I didn't want her to get discouraged. But when I asked her coaches if she could stay and practice with the team until age group started, her coaches told us not to go. I mumbled something about letting her experience some success and her coach waved that thought away. "Let her experience success when she's 14, when it really matters. Right now, let us work on her strokes and make her good."
Mr. BBM and I spent our anniversary weekend discussing things. USA swimming is a bigger commitment than age group swimming. The season is longer, the meets are further away, and the monetary commitment is a lot bigger too. We decided to listen to her coach, one of the first ones who has really paid attention to her and given her individualized attention, someone who stops her as soon as she's doing something wrong and fixes it immediately, someone who asks us to come in on off days to work individually with her. We kept her with club swimming.The coach to swimmer ratio was too irresistible to take her anywhere else.
The fall program turned into the winter program and participating in invitational meets is optional. However, after swimming in one of the dual meets, Big I had a blast and did so well that we thought we'd sign her up for one or two.
This weekend, Big I participated in a two-day swim meet, the last of the season. She has been competitively swimming for only 15 months as of this past weekend, and what she's done over the past few months is nothing short of amazing.
She took her 50 free time from a 49.85 in the summer to a 35.94. She took her 50 Breast stroke time from a 1:06:35 to 48:77. She took her 50 butterfly time from a 59:07 to a 41:94. She started swimming 100's too. From the first weekend in February until this past weekend, she knocked four seconds off her 100 IM time to a 1:32:26. She swam a 100 breast stroke in 1:44:27. Her goal was to get into the BB time standards this weekend. She did so in three of her six events. She earned ribbons in four of her six events this weekend. And this is USA swimming. She was lucky if she won a heat ribbon last summer.
Big I has one month left of the winter program. Then, she'll have two weeks off before starting the 6 week spring program that will prepare her for summer. I'm thinking that her summer coaches will probably fall over when they see how much she has improved. From the beginning of February to the end, she shaved a combined 20 seconds off of six events. Just imagine what she'll do by the time she has her first summer swim meet!
Last year, she was disappointed that she didn't qualify for a single event in the county championships. Mr. BBM recently got on the website and checked the times needed to qualify. She already, would qualify in each and every event. In most, she blows the qualifying times away.
What's cooler though, than all the shaved off seconds and the recent influx of ribbons, is that this kid LOVES to be in the water like no other kid I've ever seen. She lives, eats, breathes swimming.
Last month, I took her to a high school swim meet. One of the coaches is Kristy Kowal, 2000 Olympic Silver Medalist in breast stroke. After the meet, Big I met her and asked her to sign her cap. I got a picture of them together too. It was a moment I don't think she will ever forget. She listened to the stories about how Kristy swam exhibition events until she was in high school. She admires the hard work that Kristy obviously put into her swimming and she has decided she's going to do the same.
At night, Big I will frequently write in her journal. A couple months ago, she wrote swimming goals for herself. It's time for her to write a new set, because she has met each and every one of them. After all the frustration of watching her give less than full effort at t-ball, field hockey, karate and ju-jutsu, I think it's safe to say that she has found her sport. I couldn't be more thrilled for her or proud of her accomplishments. I truly believe the sky is the limit for her. She set her mind to it and she's doing it. I don't know very many 9-year olds who are committed to something the way she is to swimming. She's pretty amazing.