In a month and a half, our family will have been in our new location, five hours from what we all knew as home, for a year. After an initial adjustment period, for the most part, life has just continued on. The girls have adjusted to their new schools. We've made the house our own. We've started to venture out in our new surroundings to find our new favorite places and things to do. We've all made some new friends. I was warned by several swimming friends that the swimming transition might be the worst one, that a new club and new coaches would take a year to settle into for the girls. I expected that and prepared the girls for it the best that I could.
I didn't worry about Sassy as much; her outgoing personality always seems to break the ice. After practicing so hard all year long, Sassy began to get her "BB" times and get hungry for more. When she realized how close she was getting to "A" times, she got even more motivated. This past weekend, she swam her very first "A" time in the 50 back, something she didn't expect that she would do until she turned 10. Despite being the one in our family most vocal about not wanting to move, she has made the swimming transition look easy. A transition at 8 is easier than a transition at 13.
Because I know this, I worried more about Swim Girl, whose quiet and more introspective personality can be more easily misinterpreted by others. I also worried because her relationship with our previous club's coach was such a strong one. He understood how she was feeling during a practice or after a race, without her having to say a word. He knew her well enough to know that she is a rule-follower and would never skip part of a set to appear faster than someone else. He knew that yelling at her was not the way to motivate her, and that it sometimes took a while for certain things to really sink in. She didn't believe in shortcuts, and she proved that with her work ethic over the 4.5 years he coached her. He also knew how far she had come and how hard she had worked to get where she is today. Swimming didn't come naturally to her when she started; but she had the love for the sport that others didn't always possess. Despite coming in last and getting disqualified, she wanted to work harder and get better. She didn't give up. She pushed herself and she achieved. It's this history that her current coaches don't know, and that she's too shy and intimidated to share with them.
At the beginning of the short course season this year, Swim Girl was stagnant with her times. But over time, she began to drop her times across all her strokes. She went from a 2:28 in 200 back to a 2:15; from a 1:02 in 100 free to a 56; from a 5:53 in 500 free to a 5:32; from a 1:17 in 100 breast to a 1:12; from a 2:43 in 200 breast to a 2:35; from a 2:28 in 200 IM to a 2:19. Long course season started off with her swimming an Age Group Champs cut in the 1500 the very first time she swam it. The hiccup with her times didn't last very long at all. She set a goal for herself, that she wanted to qualify for SCY Age Group Champs and make a Senior Champs cut (despite the times being more challenging to get in this state). She did both. One would think her confidence would be soaring, but it's not.
It's been good for her to be at a club with so many great swimmers her age. It has taken some of the pressure off, so that she's been able to just concentrate on her technique and her times. She's made some very good friends at our new club. But she has some lofty swimming goals she's shared with me that she's too afraid to share with her coach. She has questions she wants to ask about how to fix things that stay inside her head instead. She shuts down and stays quiet when she gets yelled at for going too slow, rather than ratting out those who skipped out on part of a set. So many of these kids have been with these coaches for years. They have the kind of relationships with them that she had back home with hers. She's starting from scratch; and I can tell that it's bothering her. They don't know her history and she's not quite sure how to establish a good relationship without that. As her parent, I feel like I need to help her; but I'm also wary of becoming "that parent," and feel that at 14, she needs to take the initiative to speak up and communicate with her coach without my interference. I just hope that I can get her to start speaking up.
These are the things that make me miss the easiness that used to be home. In some ways, I'm glad we have an upcoming trip to go back and visit; but I'm also worried that the trip will just make us miss home that much more.
On Sunday, I bought Swim Girl a new dress for her National Junior Honor Society induction. She tried on a bunch of dresses and chose the one she liked.
Today, she put the dress on and took a good look at herself in the mirror. I don't know what happened between Sunday and today, but whatever it was, wasn't good. She started complaining about how ugly she looked, how everyone would make fun of her. The dress, a simple shift dress in greens and blues, looked pretty on her. She looked exactly like a 12-year old girl should look. . . her age. She felt it was too loose around the waist and wanted something to tie around the dress. The waist-tie to her white sweater was nowhere to be found, so with five minutes until we needed to leave, I ran upstairs and searched my closet for something that might work. I found a sweater that tied in the front and brought it down to her. I also grabbed a bunch of pretty barrettes that matched the dress, bought at Charming Charlie's a while ago.
I helped her fix the sweater and put a carefully placed barrette in her hair. She stood in front of the mirror and said, "I'm so ugly." She attempted to rip the barrette out but I insisted she wear it. We told her to put her chin up and be happy. This was going to be a big night for her! She moped all the way to school.
We arrived at the school, grabbed a program and found seats. Just as I was settling in, Mr. BBM says, "She's not in here. She's not in the program." I scanned it myself and found her nowhere. Another Mom suggested that maybe she was put with the wrong grade. She wasn't. I told Mr. BBM he better go tell someone. I imagined them reading names out of the program and my poor Swim Girl standing there, never being called.
Mr. BBM found the principal, told him and he was immediately off to tell the presenters to add her name. After he came back, he announced that a couple kids had been left out of the program, but that they would be printing new ones for all of us tomorrow. He speculated that these kids had turned their papers in late. I know Swim Girl turned it in just two days after her acceptance, a week before the due date.
The ceremony began and the NJHS officers were the main presenters. When it was time to read the names of the 6th graders, they called the names so quickly that the kids were practically running across the stage. When they said Swim Girl's name, they butchered her last name beyond recognition. It's not that hard of a last name. It's five letters for God's sake.
She made her way across the stage, shook the officer's hand and waited in front of her guidance counselor for her certificate. He scrambled for a bit, looking through the pile as the presenters continued to rattle through names at warp speed. Eventually he told her he didn't have one for her and she left the stage empty-handed. I could tell she was devastated. The girl should not ever play poker.
I felt a knot in the back of my throat. My Mom looked like she was going to cry, and I just wanted to stand up and scream that it's just not fair.
I'm sick of my girl getting the short end of the stick. I'm sick of her being treated like a door mat by some of her supposed friends, and I'm incredulous that the school where she is subjected to snide comments by rude kids is now also the school that called her onto stage, only to send her away with nothing.
When the ceremony was over, one of my good friends came to talk to me and to hug Swim Girl. She had watched it like everyone else. She whispered something in Swim Girl's ear which prompted a feeble attempt at a smile. As we stood there and I had to start chasing Little Man, the guidance counselor came over and began apologizing to my friend, thinking she was Swim Girl's Mom. My friend pointed out his mistake and he turned to apologize to me. He said she'd have her certificate tomorrow morning, and I nodded and said "thanks." I hope my non-poker face told him the whole story. I'm not happy. It's an oversight that never should have happened, especially when you're dealing with the already fragile psyche of a middle school girl who already feels like an outsider, the forgotten child, the ignored friend. He couldn't have picked a worse time or kid to forget.
I'd like to tell them exactly what I think about her being forgotten. I'd like to scream, yell, and let them know how irritated and disappointed I am that they did this to my daughter. But what's done is already done. Nothing can take away what happened, or how she felt; and there's nothing that's going to make it better.
I encouraged her to run for an officer position within the NJHS. That way, she can help to insure that this kind of thing doesn't happen to anyone else. But right now, her confidence is completely shattered, and that's not going to happen unless we figure out some way to repair it.
Swim Girl has been begging me to home school her the entire year. I've told her "no," on many occasions and expressed to her how important it is to be part of the school, how she wouldn't have access to her amazing art teacher, or events like this. I just lost Exhibit B in my case for her staying there. Instead of being a night to remember, it's one she'd like to forget.
Babies develop in phases. Maybe it's because he's my third one, maybe because he's my last one, but the time periods between these phases are entirely too short. Baby Belated is now 6 months old and it feels like he's doing something new every single day.
He went from being this pleasant little infant, to a very busy and curious little guy who just doesn't want to stay still. In the past two months, he's mastered sitting, and easily goes from sitting into a belly crawling position. Speaking of belly crawling, he's getting quite good at moving around. He can push himself completely up with straight arms and he's beginning to move those legs into crawling position. Yes, I'm getting scared. If I leave him to go wash my hands, I am now coming back to find him feet away from where I left him. He's realllly good at moving himself backwards; and if there's something new to explore, like his sister's book bag, he finds a way to get there.
He's decided that diaper changes are super bothersome to his busy schedule. I can't remember the last time he didn't try to escape when I changed him. Last week, he started saying "da da." And although he hasn't yet mastered "ma ma," Mr. BBM is pretty sure that he's calling me "ra ra." I'll take it.
I'm also happy to take the giant sloppy kisses he's now giving. Yes, that's a hickey on my arm from little man. Yes, that's likely drool dripping off my cheek after one of his killer sweet kisses. I get these little affections quite often now considering the little guy has discovered we are no longer attached and does not like that at all, not one bit.
Although he just started eating cereal and some fruit last week, he's pretty much mastered that. He's already eying up my eggs and bacon in the morning.
At his well visit last week, the doctor reported that he is now 29 inches long (100th percentile and just plain ridiculous) and 18.6 lbs (60th percentile). He's a lean, sweet, little machine. While our doctor was examining his belly, he started giggling so hard that he was snorting. I'm fairly certain his doctor fell in love with him, because she just kept tickling his belly and telling him how cute he is. Not that I'm biased or anything, but my little man is a looker. He's the cutest thing EVER.
His personality is developing so rapidly and it's such a good one. He enjoys making us laugh and has started doing this adorable little face where he scrunches his nose and breaths in and out really fast. The girls crack up and then he does it even more. He loves to laugh and we do lots of it in this house, now that he's here.
Tonight, Mr. BBM helped him to stand up and he was taking actual steps. I told Mr. BBM to knock that off immediately. I have much more baby proofing to do around here. I'm already freaking out about having a crawler in the house; an early walker? Um, no thanks.
I realize the blog updates have been few and far between. That's because I am soaking in every single moment with him (and I'm slightly out of practice with writing something good and effective in these short baby-free moments). I know how fast they grow up (says the mom of a now 11-year old), and I'm determined not to miss a thing about this little guy. Not a thing.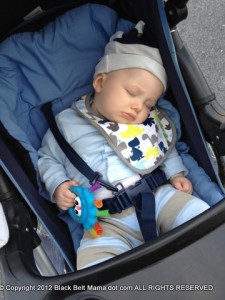 This is what happens when your life gets too crazy busy to post much. . . you have SO much to say that  you don't even know where to begin, so you just don't. Guilty. Let's see if I can catch everyone up on my cast of characters before Baby Belated wakes up today.
Baby Belated is now 4 months old! How did that HAPPEN? Between months 2 and 3, I didn't sleep very well despite the fact that he was sleeping just fine. After a two month well visit where we were threatened, "Either get all the vaccines, or get out" we spent weeks trying to locate a pediatrician who would actually respect our wishes regarding our baby and his vaccines. It took many phone calls, emails and lots of awkward interview questions, but we finally located a pediatrician who respects our wishes, isn't pushy in the least, and actually utters the words, "You are the parents, so it's your choice" and without that judge-like tone that I expected.  Not just once, mind you, but about everything from vaccines to starting solids. Although we chose to leave our practice, upon picking up our children's records and examining the disk they were on, we found a letter addressed to me (never mailed to me) that stated we were kicked out of the practice due to "no vaccines."
If  you know me and my husband, then you know that we did not receive this news well. I spent two weeks researching AAP guidelines, CDC recommendations, multiple studies (handy when your husband has worked in clinical research for a decade), and laws regarding medical records, and wrote a professional smack down of a letter to the pediatrician regarding their practices and the whole legality or illegality rather, of the fact that they sneaked a letter into our records that was not only inaccurate, but never actually mailed. Tomorrow is the deadline to receive a letter correcting the records and to receive an apology from the rudest office manager on the planet. It doesn't look likely so a complaint is going to be filed to the medical board. This whole process took up WEEKS of my life, but has thankfully ended with us finding a practice that we really do love. Plus, I got to exercise the whole "pen is mightier than the sword" thing again. That always feels good.
On to the next one. . .
This morning, Sassy woke up and proclaimed that today is the greatest day of her life. "Why" you ask? I have to pick her up from school early today to take her for an allergy testing appointment. Something tells me that when she truly realizes what's involved with allergy testing, despite me telling her in vivid detail what it was like for me, she won't be proclaiming this day above all others. "You do know you're going to the doctor today, right?" I asked her. "Yeah," she said, "I LOVE doctors." Uh-huh, we'll see. I should mention that I am going to this appointment, known to take hours, with a 4 month old baby who needed four outfit changes yesterday, thanks to green diarrhea resulting from a vaccine he received this week.  And I got my baby one shot, instead of the required four at our previous pediatrician. Something tells me the office where we're going will be super happy when our appointment is done.
Speaking of "done," our winter swim season only has a few more weeks left. In just a few weeks, she'll be off to Junior Olympics. In the beginning of the season, we were hopeful that she would qualify for JOs in an event or two. When she dove in the water at her very first meet, swam 100 fly for the very first time and got a JO time right away, we were very encouraged, but still kept our expectations in check.
This kid has blown our expectations out of the water! Swim Girl is now qualified for Junior Olympics in 11 events (she's only allowed to swim a total of 9). In addition to getting JO times, she moved her times from BB to A in every event and even has some AA times now. She's knocking on the door of more AA times in several other events and is hoping she can end her season with at least one AAA. If you want to learn something about goal setting, you can talk to my daughter. What has been fabulous is that after almost every meet, she has to set new goals for herself, because she is constantly breaking through her goal times. This past weekend, she dropped her 100 fly and 100 back by three seconds each.
On the drives home from practice, she talks to me about the little tweaks she made to her strokes, how she's thankful for her coaches because they helped her fix something that will surely, she tells me, knock some more time off. She has already broken two of the club records and is aiming to break at least two more. She's broken her own record three times now in the 50 breast. I am in absolute awe of this child, and have never seen a kid so young, be so motivated to succeed. At Junior Olympics, she knows the competition is tough. Currently she has an overall ranking of 29th in the Middle Atlantic (based on a cumulative score earned by swimming 100's of each stroke, the 200 free and the 200 IM). And frankly, I feel like she's just getting started. It has been an exciting year.
I've received a lot of questions and emails about when I'm going to return to karate. The short answer is that I don't know. When the kids were younger, it was easier to get there. I didn't also have to get them to all of their activities. Now I have two swimming girls who are very busy with practice and lessons AND a baby. Throughout my pregnancy, my joints got really loose and I was worried about my knee and how it would come back. However, because my joints were so loose, during pregnancy and right after, the flexion I regained in my knee was amazing. Unable to sit cross-legged, squat or kneel before, I'm now able to do all of those things. I think the loose joints allowed me to bust through some scar tissue and gain greater mobility.
It also made things feel a lot less stable. At this point, I'm working out sporadically, and not nearly enough to build proper muscle in my leg to support this knee enough to return to karate. I'm almost 10 lbs. below my pre-pregnancy weight now and feel like a string bean. Before I even think about finding time to return to karate, I need to gain some muscle and get my supporting leg muscles stronger. It's just not easy when you have three other people to take care of and run to their activities. As a Mom, although I know I need some "me" time, right  now it's all about them. I may not be throwing punches and kicks at the dojo, but I'm present for every meet my daughters swim in and that is most important to me right now.
As I finish writing this, Baby Belated is staring at the camera monitor, waiting for me to come pick him up and start our day. For now, it is what it is, a busy house with three spirited kids, and one Mom who never stops running. Honestly, I'm pretty happy about it.
On Tuesday, Sassy turned 6. Where does the time go? My current "baby" has turned into such a big girl in the past couple months. She went from being a shy little girl who didn't want to talk to anyone, to being super talkative and out-going. She is so her mama's child.  She is notorious for making friends with waitresses and cashiers. She has no problem raising her hand and talking to her teacher at school.
When she started Kindergarten this year, I was worried. In our district, it's full day and it's a long one. I was worried that she wouldn't handle it well; but she has thrived. By the end of the week, she is definitely exhausted and minding the long days and getting up in the morning; but she is doing so well. She takes books to school and reads them to her class. She's been working so hard at learning how to read. The way she picks things up just amazes me. She has such a love of learning; and it's transferred into the pool too.
A month ago, Sassy started swimming in the club program where her sister swims. One of the youngest of the group, she is holding her own. She can do all four strokes (not entirely legally yet, but she's getting there); she's learned how to dive and she wants to go three times a week despite the fact that I was initially only going to take her once or twice. She adores her coaches and thinks of them as not only that, but also as friends. She is constantly telling them "knock-knock" jokes, relaying what she did in school that day, or telling them some other imaginative story.
It is nearly impossible not to just love her, because she is such a sweetheart. This past month has been tough for me, because I've lost my shopping and hanging out buddy. She was always up for going grocery shopping with me; she is always helping me out. Two weeks ago, I came home to find her standing in the laundry room, folding clothes. I can't crack an egg in this house without her offering to help me cook. I have little doubt that I will have a "little Mommy" in the house as soon as this baby is born.
A week ago, I was complaining that Mr. BBM never rubs my feet anymore. I got the star treatment when I was pregnant with Big I; but 10 years and 3rd pregnancies don't warrant the kind of foot-rubbing action I would like. Two seconds later, Sassy was asking Mr. BBM to get down the lotion from the shelf so she could rub my feet for me.
She is an absolute doll, and I just know that she is going to be an amazing big sister to this little guy (if he ever decides to show up). She is already talking about how she's going to read him books. I swear that is half of the reason she has taken such an interest in learning how to read all of a sudden. She is always thinking about others.
I know that when this baby is born, Sassy is going to look like a giant to me, the same way Big I looked to me when I had Sassy. But inside, she will always be my baby girl. Happy 6th Birthday Sassy! With every year, you're more awesome than the year before and I can't wait to see what the next year holds.