October 4, 2008
Dear Lil C:
Today you turned three years old. I can hardly believe it. Three years ago tonight, I was bringing you home from the hospital for the very first time. You were tiny and beautiful, and though you're growing like a weed, you're just as beautiful now.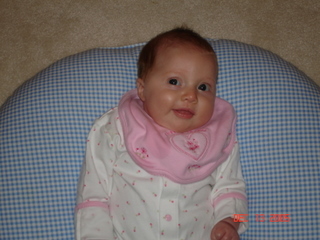 Lil C, 2 months old
I remember holding you and rocking you in the middle of one of those first nights. I caught our reflection in the mirror and remember thinking, "Always remember this moment. Always remember how this feels to have this tiny, perfect baby curled up so perfectly on your shoulder."
I will never forget.
Lil C, 1 year old
You have always had this fighter spirit about you. In recent months, you've shown me that you don't need me to stand up for you. You are perfectly capable of doing it all by yourself.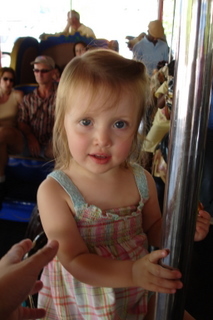 Lil C, two years old
You want to do pretty much everything all by yourself, including dressing yourself and brushing your own teeth. You even wanted to put your own sunscreen on this summer.
Your questions never cease to amaze me. You're forever curious about how to make milkshakes, cookies and hamburgers. You can also make a mean salad. There is no denying you like to eat, so it is easy to see you as a future foodie or famous chef.
You are now, and will always be Mommy's little spit-fire. When you're having a grumpy day and people tell me you're just like your Mommy, I couldn't be prouder. It's nice to have a partner in not backing down.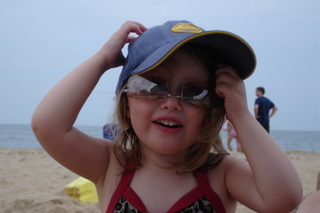 I can always count on you to be my little beach bum girl. When everyone is heading to the pool, I know we'll be carrying our buckets to the beach.
Lil C, two months shy of third birthday (above).
You're like me in more ways than just the spit-fire qualities. Neither of us like rides that go in circles, go too fast, or in any way surprise us. At an amusement park last week, you leaped off a carousel horse mid-ride and were content to eat your way through the park instead.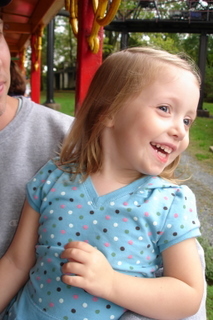 Lil C, one week shy of third birthday.
I feel like you are this very special blessing that has come into my life; and I feel blessed and privileged to be your Mommy.
I hope you had a wonderful birthday today Lil C. No matter how big you get, you will always be my baby.
I love you,
Mommy (Black Belt Mommy)
For the story of Lil C's birth, go here.
Comments