I desperately want any of the appliances that Electrolux makes…and their new Red Hot Red washer and dryer has certainly gotten my attention.  Electrolux makes high quality appliances, but what makes them an even more attractive company is the charitable work they do.
Right now through the end of February, Electrolux, teaming up with Kelly Ripa, is holding the Virtual Cupcake Campaign for the Ovarian Cancer Research Fund.  By logging on to Kelly Confidential, you can send a virtual cupcake to a friend and Electroluxwill donate $1 to OCRF.  Just think, you can brighten a friend's day AND do charitable work in one click of the mouse!  For a little more motivation, every time that you send a cupcake, your name gets entered into a drawing for Electrolux's newest front-load washer and dryer.  It's a win/win/win situation!
Kelly Ripa has also designed a "Wear Your Heart on Your Sleeve" t shirt that you can purchase and 100% of the proceeds benefit OCRF.  It's a great gift to get your girlfriends and for yourself.  You can look good and feel good all at the same time.
Thanks,MomCentral, for hooking me up with this great campaign! Go now and send your cupcakes…it's a ton of fun and you're supporting such a great cause!  TKDDaughter gives Electrolux and their Virtual Cupcake Campaign a

Alright. I'm stepping outside my box today. You may remember me from such tough guy reviews as Power Training and Black Belt Karate. Well today I'm here to help you in a different department – a much more adorable one.
Squishable.com is a website that provides a very specific service – they import fluffy, lovable stuffed animals into America from Hong Kong. Yes, it sounds like it should be illegal – but it isn't. The creators are crazy smart folk; they didn't jump onto a fade, they spearheaded one.
(In case you're wondering why squishables are getting so popular, have a peek:)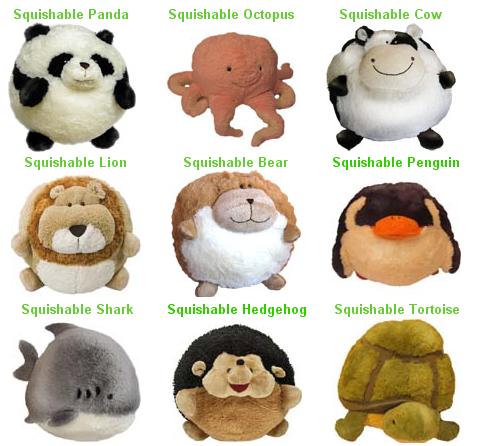 Statistically speaking, 88% of female viewers just erupted in 'awws' and 'that's so cute!' (and 14% of male viewers did too, but then went and lifted weights.) Which brings me to the main reason why I write this review – fellas, make it happen.
Over the course of the holidays I was searching for a fun gift for my sig-other. I was coming up a little blank when I remembered my sister telling me about these cute stuffed animals she saw at an anime convention in Baltimore. She sent me the website, and I realized almost instantly that this was a winner.
The sheer size of the squishables is what really makes them different. Consider this comparison: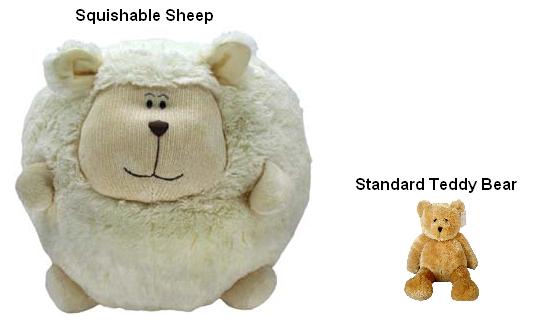 This is only a slight exaggeration created through the magic of Microsoft paint. Real squishables are indeed large.
Another neat thing is the wide variety of animals they have to offer. The webpage contains dozens of different styles, and also some weird alternatives (think cupcakes and carrots).
After spending way too long agonizing over what creatures I wanted, I put in my order. Upon arrival, I was very pleased with the quality. These things were designed to absorb impromptu hugs from anyone who happens to be within arms length.
When I ultimately gave one to my girlfriend (it was a panda), she was very pleased. First at the unlikelihood of receiving an oversized stuffed animal, and second at the cuteness of it. I also secretly bought one for my sister (a raccoon) knowing she wouldn't expect it.
In addition to girlfriends or wives, there's one other demographic to consider – kids.  Parents, aunts, uncles, etc. who need to find something fun for a small child should add squishable.com to their list of must-stops.
Squishables are an unexpected, outside-the-box gift for a price that's very reasonable. If you're stuck for a birthday, Valentine's Day, or any other Day, I'd say this might be your answer.
Ikigai108 gives Squishables…

Is one of your resolutions this year to get organized? Are you in charge of volunteers at your church, school, or even just the one who organizes the neighborhood playdates? Do you have a family schedule that is hectic at best and you want to make sure things run smoothly this year?
Look no further than Qlubb.com. Qlubb.com is a great place for getting organized and is a one-stop shop for sending out event emails, posting pictures of your event and getting volunteers. As I was reviewing the site, I couldn't help but think about the Home School Association at my daughter's school and what a valuable resource it would be for them!
Signing up is easy to do. Even if you just want to organize upcoming events for your own family, you can arrange for emails to go out with the click of a button. Delegating tasks to group members is really easy too and everything is conveniently all in one place.
Qlubb.com features online RSVP's, online sign-up sheets, and even sends out reminders about upcoming events to group members. I really should have used this for my birthday party invites!
BBM gives Qlubb.com. . .

If you're a parent and you're looking for some inspiration to stay active, if you happen to be a techy person and like online websites like Facebook and MySpace, then Bugaboo Friends may have something just for you!
You're probably thinking, "Aren't those people the stroller people?" and you would be correct. But they've started a campaign to get people connecting online with other active like-minded people and it seems to be catching on.
To get started, one only needs to go visit the Bugaboo website and log in. Once logged in, users create a profile detailing things like where you live and how you stay active. Creating this profile enables you to link your other online personas from Facebook and Myspace all in one place.
There is a "featured friend" area where one can find all kinds of inspiration to stay active via skydiving, traveling, surfing, etc. I thought we were an active family. These people make us look like couch potatoes. What's inspiring though, is that despite having multiple kids of all ages, there are people on there who just do it, despite all the equipment required to travel with little ones and despite having to take a slower pace out in the world.
In addition to the possibility of winning prizes, those who create a profile can become a featured friend. There is no shortage of things to do once you're a registered bugaboo friend.
The only negative is that those with slightly older children may feel a bit out of the loop. Many of the featured families have stroller-aged children. But if you can get by that, make some active new friendships and find some inspiration to get you and your family rolling, then it's all worth it.
BBM gives the Bugaboo Friends website. . .

Responsibility, it's a word that parents and teachers use constantly. If you're a parent and a teacher, it's an absolute staple in your vocabulary. If you're looking for help on teaching about responsibility with your children, look no further.
Liberty Mutual has started a website called "The Responsibility Project" and it's a useful resource for any parent. The website features a blog about all things responsibility related. If it has to do with taking ownership or is something that has come up in the off the beaten path news, you can find it here.
It also features several short films that range from animated shorts to more serious films that address the issues of responsibility and moral decisions. The "Lighthouse" film is short and sweet and brings up the issue of responsibilities as a member of society. It's a refreshing and wonderful site, loaded with resources to inspire you and to inspire others.
You can also evaluate your own thoughts about responsibility as related to friends, managers, co-workers, and even chefs at the restaurants in your life. In the "What's Your Policy?" area of the site, one can create policies for dealing with just about anyone.
The site gives one a lot to think about and is a good place to stop on a lunch break or if you're cruising around the internet and tired of all your usual haunts.
Someone has finally taken responsibility for teaching responsibility and I couldn't be happier about it. BBM gives "The Responsibility Project". . .