Today, I pickup my son up from preschool for the very last time.  It was so difficult to experience yet another bittersweet moment-I am so proud of how much he has grown and so excited for what the future holds, but I so desperately want to hold on to my baby.  While the summer is just beginning, the fall looms ahead of me and a new phase of his education awaits.  I think the transition will be a lot easier on the boy than on the mom. 
I was recently introduced to KinderCone…based on the German tradition of Schultute, a cone made of sturdy and colorful paper which is filled with treats and school supplies and given to first graders as they embark on their very first day of school.  This 200 year old tradition helps children on the scary adventure known as first grade. 
When we unpacked our KinderCone at our house, my son loved it.  It included a stuffed animal, school supplies, and other assorted fun items.  He had such a blast taking out each item and he told me that he thought it was a good thing to do when getting ready to go to all day school (for him, this is kindergarten).  He asked if we could do this every year!
I simply love this idea…to send our kids off to school knowing they are loved and that we have taken the time to prepare something special just for them.  What a great send off. Check out their website and see for yourself.  They have a variety of of choices and price points-one of these will definitely work for your soon to be first grader!
Without a doubt, TKDDaughter gives KinderCone a:

 
I wrote this review while participating in a blog tour campaign by Mom Central on behalf of KinderCone and received KinderCone samples to facilitate my review. Mom Central also sent me gift certificate to thank me for taking the time to participate.
When I was in high school, chemistry class was a real drag. I barely passed. The lab smelled terrible and the experiments we did scared the living daylights out of me. Bunsen burners are scary people; admit it.
However, if chemistry had been made relevant to me, I might have had a different opinion about it. Enter the Magnificent Manicure Kit.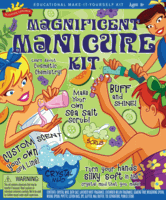 Named one of the best toys of the year, I can definitely see why. My husband, who happens to have a degree in chemistry, jumped right on board with this fancy toy. The girls spent an hour, sitting at a table, mixing things and creating their very own manicure materials including fragranced lotion and buffing cream.
When all was said and done, they had learned a bit about cosmetic chemistry and they both had beautiful nails to show for it. And, even better, the husband had helped them. While the "experimental" part is actually pretty simple, the girls couldn't help but feel like they could now get jobs at Clinique Cosmetics.
The toy completed occupied them and they actually learned something too. How often does that happen at the same time? While using the Magnificent Manicure Kit, kids will be able to make their hands silky with crystal mud, get to soak hands in a sea-salt scrub, create their own custom scented lotion, and buff and shine their nails. It's like a little kid spa in a box.
If I had to find a negative, it's that you can only do it once. I mean, sure you can give yourself manicures, but the actual mixing and making only happens one time. The girls enjoyed that part so much that it would have been nice if they could have had some options for future play, maybe several different scented lotions or something along those lines.
The manicure kit is for ages 8 and up, but with strict supervision, I'm sure younger kids could potentially enjoy it as well. The kit retails for about $18 and you can find it everywhere from Big Box retailers to small creative toy outlets online. The maker of this kit? Elmers of all people; you know, the glue people. How about that.
BBM gives the Magnificent Manicure Kit a. . .

A couple months ago, we received some Bella Sara trading cards to review. My daughter instantly loved them. Without even logging on to the website, she spent days carrying them around and keeping them out of her sister's evil grasp.
Once we went online, feeding and taking care of her horses was a real hit. The site is well designed, fun, and offers great background music. After time though, she sort of forgot about logging in. Plus, taking care of 15 horses, even virtual ones, was a lot of work.
Recently we received Bella Sara Treasures and Miniatures in the mail. The miniatures are exactly what you think they are, miniature versions of the Bella Sara horses. They only stand about 1.5 inches in height and each miniature comes with a little plastic stand. The miniatures were a big hit with the girls. They are definitely cute; but there are some negatives.
First, the miniatures have a funny kind of smell to them. I couldn't place it exactly but I think it's related to the materials used and maybe the paints? The other negative is that while the girls initially adored them, they are so teeny tiny that neither of my girls have any idea where their horses are right now. I'm sure that when we organize the toy chest, they'll turn up, but if I'm being completely honest, this is one of those things that drive mothers insane. They are tiny and easily become lost. Because of this, I would recommend the miniatures for only serious collectors of the cards and other products.
The Bella Sara Treasures are the eighth line of trading cards. These cards, as with the previous lines, are full of color and pretty things that all girls love. Each card features some type of treasure that the Bella Sara horses love and protect. The Treasures opens up new activities and excitement in the online Bella Sara world. In addition to the fun that can be had by having these cards, Bella Sara is offering some additional excitement for fans.
Currently, Bella Sara is running a contest. The lucky winner will receive their own personal treasure hunt for themself and friends. If you are interested in finding out more about the Bella Sara Miniatures and Treasures line, or if you'd like to win the contest, please visit here for more information. But hurry! The contest ends April 30th.
BBM gives the Bella Sara Treasures and Miniatures. . .

Alright. I'm stepping outside my box today. You may remember me from such tough guy reviews as Power Training and Black Belt Karate. Well today I'm here to help you in a different department – a much more adorable one.
Squishable.com is a website that provides a very specific service – they import fluffy, lovable stuffed animals into America from Hong Kong. Yes, it sounds like it should be illegal – but it isn't. The creators are crazy smart folk; they didn't jump onto a fade, they spearheaded one.
(In case you're wondering why squishables are getting so popular, have a peek:)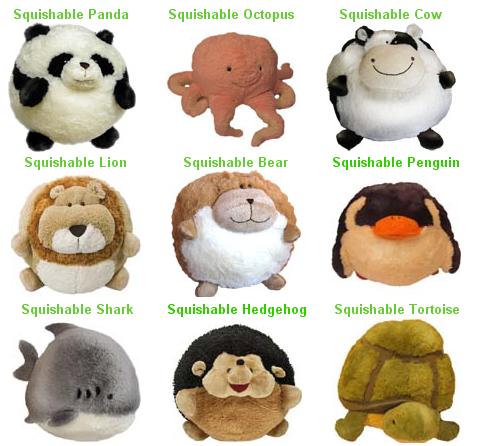 Statistically speaking, 88% of female viewers just erupted in 'awws' and 'that's so cute!' (and 14% of male viewers did too, but then went and lifted weights.) Which brings me to the main reason why I write this review – fellas, make it happen.
Over the course of the holidays I was searching for a fun gift for my sig-other. I was coming up a little blank when I remembered my sister telling me about these cute stuffed animals she saw at an anime convention in Baltimore. She sent me the website, and I realized almost instantly that this was a winner.
The sheer size of the squishables is what really makes them different. Consider this comparison: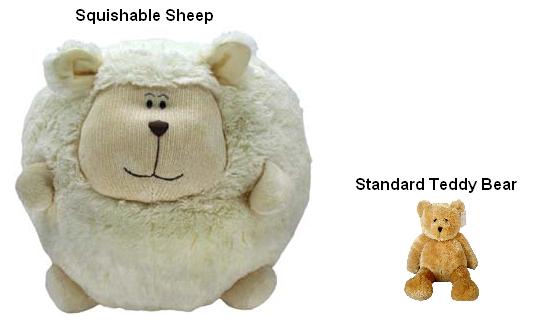 This is only a slight exaggeration created through the magic of Microsoft paint. Real squishables are indeed large.
Another neat thing is the wide variety of animals they have to offer. The webpage contains dozens of different styles, and also some weird alternatives (think cupcakes and carrots).
After spending way too long agonizing over what creatures I wanted, I put in my order. Upon arrival, I was very pleased with the quality. These things were designed to absorb impromptu hugs from anyone who happens to be within arms length.
When I ultimately gave one to my girlfriend (it was a panda), she was very pleased. First at the unlikelihood of receiving an oversized stuffed animal, and second at the cuteness of it. I also secretly bought one for my sister (a raccoon) knowing she wouldn't expect it.
In addition to girlfriends or wives, there's one other demographic to consider – kids.  Parents, aunts, uncles, etc. who need to find something fun for a small child should add squishable.com to their list of must-stops.
Squishables are an unexpected, outside-the-box gift for a price that's very reasonable. If you're stuck for a birthday, Valentine's Day, or any other Day, I'd say this might be your answer.
Ikigai108 gives Squishables…

Parents has a great line of toys for little ones, aged six months and up. We were sent the Look-at-Me Camera to try. This toy is meant for children aged 12 months +. It's a simple easy to hold camera that features a couple buttons to press that make different sounds. One button makes the standard shutter noise. Another plays music fit for an "I'm Too Sexy for this Camera" type of catwalk action. It also features a mirrored front so your little one can pretend they're taking pictures or take a good look at themselves. I had hoped that maybe the camera would capture an image or two, or show some pre-set images but it doesn't. It's simply a push-the-button type of toy.
While my 3-year old initially thought it was shiny and cool, she lost interest after a couple hours. My older daughter picked it up next and thought it was neat for a while. She was especially digging the fashion music.
While I certainly think the toy is cute and fun, one really needs to pay attention to the suggested ages. While a 1-year old would probably find it great fun for longer stretches of time, my kids were looking for a little more action from the toy.
If you're interested in checking it out yourself, visit the Parents website or Target. The suggested retail price is around $15 but you can find it out there for about $9.99.
BBM gives the Parents Look-at-Me Camera. . .