One things I love about putting up Christmas decorations is how each decoration brings up so many memories.  I get to relive my childhood memories, remember those who has passed, and share a special time with my son as I tell him about each ornament.
Some of most favorite ornaments from one of my most favorite companies are the ornaments from Wendell August Forge.  Wendell August Forge  is America's oldest and largest forge creating hand-wrought metalware for over 85 years.  The company continues to be an American company producing American made products.  But better than that, they are a company that completely exhibits the American spirit.  Six months ago, their flagship store, an historic building containing precious items, burned to the ground.  And while this could have destroyed the company forever, the owners and employees dusted themselves off and flourish today.  Their strength and grace in such dire circumstances are an inspiration.  I loved this company before, but now I have a profound respect for their spirit and determination to continue to make American made, hand-wrought gifts for generations to come.
My newest favorite thing from the company is this: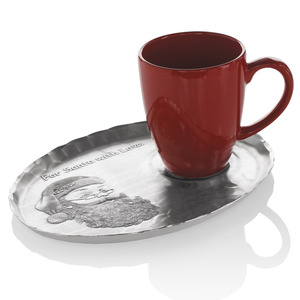 Look at this incredible For Santa with Love plate for Christmas Eve night.  Complete with the red ceramic mug for Santa's cocoa, Santa will be sure to stop by any house with this keepsake.  Santa is lovingly illustrated in extreme detail. When I asked my son what he thought of it, his response, after the squeal of delight, was  "that's great!"  This truly is high praise from a six year old.
There are so many amazing products by Wendell August Forge.   You can buy from them online, or visit one of their four locations.  Some of my most precious wedding gifts came from Wendell August Forge and I have a Christmas dream to add a fifth tree at our house with just Wendell August Forge ornaments. How amazing would that be? 
Can you tell how much I love this company?  If you need gift ideas, visit them and support an American company, producing American-made products, and who, quite literally, has risen from the ashes.
TKDDaughter gives Wendell August Forge, their To Santa with Love plate, and all their other items a resounding:

Until a few years after we got married, my husband was not a coffee drinker, so alone I would sit on weekend mornings, enjoying my cup of coffee.  Slowly, he began to join me and now needs his morning cup to get his day started, too.  Only thing is, I drink decaf mostly. I have a pretty severe reaction to caffeine, so I avoid it as much as possible.  So, my husband, who loves and often needs caffeine, is confined to a pot of decaf first thing in the morning.
This is what makes us love our Nescafe Dolce Gusto coffee machine even more-he can get his caffeine and I can stick with my decaf.  He also likes very sweet coffee, and I tend towards just a little cream.  My favorite is the Caffe Lungo Decaf-it's a flavorful, bold coffee, but no caffeine to make me crazy.  The hubby's favorite is the Vanilla Macchiato. My only issue with it – and it's a small and common issue- is that there aren't a few more decaf choices.  There are many other options, though, including cold beverages.  So whether you need a warm cup of comfort or a cold, refreshing beverage, the Nescafe Dolce Gusto is the right choice for anyone!
We are so happy with this machine.  It's the perfect addition to our kitchen "family" and has allowed us to enjoy the kind of coffee we want, whenever we want it!
TKDDaughter gives the Nescafe Dolce Gusto a:

"I wrote this review while participating in a test drive campaign by Mom Central Consulting on behalf of NESCAFÉ Dolce Gusto and received a coffee machine to facilitate my review."

Sleek.  Stylish.  Modern, yet classic.  A statement.
Never in a million years did I ever think I would  use those types of words about a…coffee maker!  Yet, here I am.  You see, there's a new addition to my kitchen and it's making all the other appliances.  Here it is: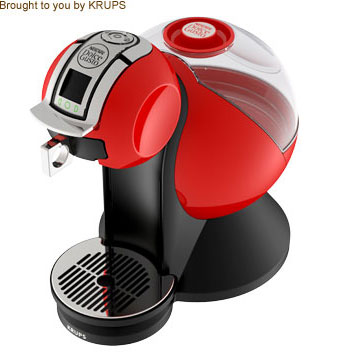 You see it now, don't you?  It's awesome!  It's the Dolce Gusto Creativa!
This machine is an instant update for anyone's kitchen.  And I'm telling you…your other small appliances are going to be turning green with jealousy.
Interested in this machine?  Come back tomorrow to read about how well it works and the flavor choices.  To tide you over until then, check this out.  See you then!
"I wrote this review while participating in a test drive campaign by Mom Central Consulting on behalf of NESCAFÉ Dolce Gusto and received a coffee machine to facilitate my review."

Today, I pickup my son up from preschool for the very last time.  It was so difficult to experience yet another bittersweet moment-I am so proud of how much he has grown and so excited for what the future holds, but I so desperately want to hold on to my baby.  While the summer is just beginning, the fall looms ahead of me and a new phase of his education awaits.  I think the transition will be a lot easier on the boy than on the mom. 
I was recently introduced to KinderCone…based on the German tradition of Schultute, a cone made of sturdy and colorful paper which is filled with treats and school supplies and given to first graders as they embark on their very first day of school.  This 200 year old tradition helps children on the scary adventure known as first grade. 
When we unpacked our KinderCone at our house, my son loved it.  It included a stuffed animal, school supplies, and other assorted fun items.  He had such a blast taking out each item and he told me that he thought it was a good thing to do when getting ready to go to all day school (for him, this is kindergarten).  He asked if we could do this every year!
I simply love this idea…to send our kids off to school knowing they are loved and that we have taken the time to prepare something special just for them.  What a great send off. Check out their website and see for yourself.  They have a variety of of choices and price points-one of these will definitely work for your soon to be first grader!
Without a doubt, TKDDaughter gives KinderCone a:

 
I wrote this review while participating in a blog tour campaign by Mom Central on behalf of KinderCone and received KinderCone samples to facilitate my review. Mom Central also sent me gift certificate to thank me for taking the time to participate.
Unlike most people, I love shopping for people's showers.  I love that I am getting a friend exactly what she wants instead of what I think she needs.  Baby showers are especially fun because of all the cute and cuddly little baby things. 
I also like to do theme gifts…instead of just picking out a few things that fit my budget, I like to buy gifts that fit together.  My standard baby shower gift is a bath time gift.  I start with the baby tub and fill it with the bath time products on the registry.  That usually includes a hooded bath towel, pastel washcloths, Johnson's Head to Toe wash, baby powder, (my favorite diaper rash cream) Desitin, and now the new Bedtime Bubble Bath & Wash.   I pack them all together in the baby tub, shrink  them, and then add some nice bows.  Voila a!  A beautiful baby shower present with practical products.
The new Bedtime Bubble Bath & Wash is a great addition to my baby shower gift.  The light scent is relaxing, so much so that I wouldn't mind it for myself, either! 
Next time you're shopping for baby shower, consider a theme gift using all the best of Johnson's.  The classic smell of the Head to Toe wash is that "baby smell."  And you have to try the new Bedtime Bubble Bath & Wash! Check out all of their great products here. 
TKDDaughter gives Johnson's a:

I wrote this review while participating in a blog tour campaign by Mom Central on behalf of Johnson's and received samples of Johnson's Baby products to facilitate my review.