When I was a in elementary school, I was always envious of the "walkers."  These were the kids who lived close enough to school to walk.  I lived far from my elementary school, so I had to take a bus.  As a "busser" I could not go home for lunch.  When we had our annual Halloween parade, I had to change at school, but the walkers got to go home and change.  Luckily a friend of mine was a walker and she would take me home for lunch sometimes.  It was cool.
When we were looking for a preschool for my son, we were so lucky to have two good preschools within walking distance of our house.  I will never forget the experience of taking his little hand and walking him out of my arms and into school for the first time.  Or the fast walk home to cry until it was time to pick him up again.  We grew to love our walk to school together.  The anticipation on the way there of what they would be doing that day and on the way home the sharing of what he had learned and experienced was priceless.  Feeling the sunshine on warm days…dodging raindrops and jumping into puddles…trudging through the blizzard of '10…
It was just what we did. We didn't do it for health reasons, but what a nice benefit that was!  It gave my son lots of energy on the way to school and helped him relax a bit on the way home.  This is especially important with today's overuse of television and video games instead of active play.  October is International Walk to School Month (who knew?!) and in honor of it, Green Works has created a fun website to help families join the fun and walk or bike to school and in the process, earn some money for their school to the tune of $5,000. Parents can sign up here.  The top five schools with the highest participation could earn the big prize of five grand, but there's also individual prizes as well!
Remember, too, that walking to school is a great way to be "green."  Every school is trying hard to be more green (or they should be)-paper recycling centers, cutting back on paper usage, and reusing as much as possible all work together to help make this world a little bit better. 
So go green, use Green Works, and earn a little green for your school!
TKDDaughter gives the Green Works Walk to School Challenge a big:

"I wrote this review while participating in a blog tour campaign by Mom Central on behalf of Clorox Green Works and received a $30 thank-you gift certificate."
Today, class, we are going to plant our pens…Can you imagine the expression on the students' faces if I said that?  And yet, I could do a lesson where we write with our new pens and then turn the pens over to our science teacher and she could do a lesson on helping our environment.  Confused?
Paper Mate has come out with a line of biodegradable pens and pencils!  I love this idea on so many levels.  First, by using a biodegradable pen, I am lessening my carbon footprint and with the amount of pens I go through in a year, this could make a huge environmental impact!  Second, I love the way Paper Mate products write-this one is no different. The movement is fluid with no glumps.  Third, it's a great "teachable moment" for me to share with my son.  To be able to explain the impact our actions have on this earth and the opportunity to avoid that is invaluable!  Finally, and the least important, I love the way they look and feel. 
We planted ours in my herb garden.  We plan on checking on it for the next year to see what happening in the dirt.  How exciting for my son to see this progression and get to play in the dirt! 
TKDDaughter gives Paper Mate Plant a Pen a:

"I wrote this review while participating in a blog tour campaign by Mom Central on behalf of Paper Mate and received the products necessary to facilitate my review. In addition, I received a gift certificate to thank me for taking the time to participate."
My husband has been wearing glasses forever.  He often tries out contact lenses, but finds them uncomfortable.  Glasses, however, can take a beating when worn continuously especially when doing the renovation projects of the magnitude we have in our house.  So, he needs comfortable glasses that are durable.
Back in the late fall, we were asked to try out a pair of Airwear lenses.  After a few complications, my husband has declared these lenses super comfortable.  Airwear lenses are 30% lighter and 10 times more impact resistant than standard plastic lenses.  This comes in handy when wrenches are falling when he's working under the car or as he bangs his head on the boards he is cutting for the new porch railing. 
Since it's Earth Day, we can celebrate Airwear lenses because of their green quality.  100% of the product waste from Airwear lenses is recycled reducing their environmental footprint that occurs during production. 
We did have some issues with the company.  It took a very long time to receive our lenses, and when we got the first set of lenses, there was a flaw in the lenses that made it blurry for my husband.  They rectified the situation and my husband is now comfortably wearing his lenses.
TKDDaughter gives Airwear lenses a:

I wrote this review while participating in a blog tour campaign by Mom Central on behalf of Airwear and received a pair of Airwear eyeglasses lenses to thank me for taking the time to participate.
This year, as Mother's Day approaches, there is more talk about "going green" and earth-friendly products than ever before. If you are still struggling with what to get the Mom in your life, I have an idea for you.
I happen to own many of the reusable grocery bags for when I go grocery shopping. But the grocery bags don't really make for a nice shopping bag when you're at the mall. This is where Goody Green Bags come into play. Goody Green Bags are convenient shopping bags, that fold up easily to the size of a wallet. It's not one of those bags that you can't ever get back together the right way either. Goody Green Bags fold up as easily as they unfold. You can see how nicely they fold up in the picture below.
The bags are deep but a bit more narrow than your typical grocery recycling bag. This is part of why the bags look much more stylish when carrying them around. There's also a small pocket on the exterior of the bag, great for smaller shopping purchases. The double strap and soft fabric is also very nice.
Speaking of the fabric, Goody Green Bags come in six different styles. My personal one is "Bad to the Bone" and the pattern is just plain cool.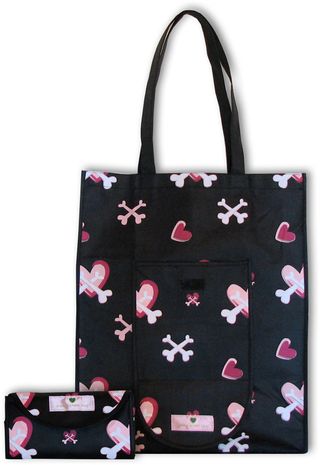 You can purchase them for $8.95/each or $39.95 for a five pack of bags. You might as well get the five-pack because they're convenient for shopping, but they're also great for impromptu activity bags in the car and as a bag to carry to the park with some essentials.
Through May 15th, all orders over $25 receive free shipping too. You can order yours here.
I can't think of a thing I don't like about Goody Green Bags.
BBM gives Goody Green Bags. . .