One things I love about putting up Christmas decorations is how each decoration brings up so many memories.  I get to relive my childhood memories, remember those who has passed, and share a special time with my son as I tell him about each ornament.
Some of most favorite ornaments from one of my most favorite companies are the ornaments from Wendell August Forge.  Wendell August Forge  is America's oldest and largest forge creating hand-wrought metalware for over 85 years.  The company continues to be an American company producing American made products.  But better than that, they are a company that completely exhibits the American spirit.  Six months ago, their flagship store, an historic building containing precious items, burned to the ground.  And while this could have destroyed the company forever, the owners and employees dusted themselves off and flourish today.  Their strength and grace in such dire circumstances are an inspiration.  I loved this company before, but now I have a profound respect for their spirit and determination to continue to make American made, hand-wrought gifts for generations to come.
My newest favorite thing from the company is this: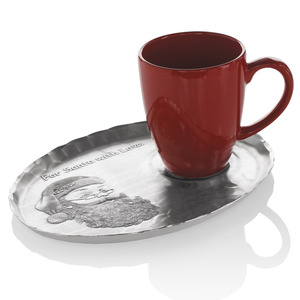 Look at this incredible For Santa with Love plate for Christmas Eve night.  Complete with the red ceramic mug for Santa's cocoa, Santa will be sure to stop by any house with this keepsake.  Santa is lovingly illustrated in extreme detail. When I asked my son what he thought of it, his response, after the squeal of delight, was  "that's great!"  This truly is high praise from a six year old.
There are so many amazing products by Wendell August Forge.   You can buy from them online, or visit one of their four locations.  Some of my most precious wedding gifts came from Wendell August Forge and I have a Christmas dream to add a fifth tree at our house with just Wendell August Forge ornaments. How amazing would that be? 
Can you tell how much I love this company?  If you need gift ideas, visit them and support an American company, producing American-made products, and who, quite literally, has risen from the ashes.
TKDDaughter gives Wendell August Forge, their To Santa with Love plate, and all their other items a resounding:

Early on, dental hygiene, or since he didn't have teeth then "gum hygiene," was a challenge with my son.  We would take that little rubber finger brush and attempt to pry open his mouth only to get chomped down on when we succeeded in getting in there.  We often could not brush anything for fear of losing a finger.
Now, six years later, oral care has taken on a different meaning in our house-if you brush your teeth and floss regularly, the trip to the dentist won't take as long.  This has been a great motivator in our house!  If you're like us, though, any holidays really messes with the routine.  And Halloween is NOT the time to be putting aside the family oral care with the amount of candy in our house right now.  Listerine has found a way to help with that…they have launched the Listerine Oral Care Challenge in the month of October to help families with all the other months of the year.  My son, husband and I all took the challenge, brushing, flossing, and rinsing every day for three weeks.  We have one week left in our challenge, but we're all doing incredibly well.  We've gotten into the routine of brushing, flossing, and rinsing without too many reminders and my son likes the idea that he's making all future trips to the dentist a whole lot easier. I highly encourage you to challenge your own family with an oral care challenge.
LISTERINE and REACH also did a really cool event for Halloween-they joined forces with "America's Toothfairy" for "Trick or Treat for America's Toothfairy" to help raise awareness of pediatric dental disease and to help provide life changing dental care to children who don't have the access to quality dental care. Check this important campaign out and see all the good work that was accomplished. 
TKDDaughter gives the Listerine Oral Care Challenge a:

"I wrote this review while participating in a blog campaign by Mom Central on behalf of LISTERINE and REACH and received products to take the Oral Care Challenge. Mom Central also sent me a Global Giving gift card to thank me for taking the time to participate."

 
When I was a in elementary school, I was always envious of the "walkers."  These were the kids who lived close enough to school to walk.  I lived far from my elementary school, so I had to take a bus.  As a "busser" I could not go home for lunch.  When we had our annual Halloween parade, I had to change at school, but the walkers got to go home and change.  Luckily a friend of mine was a walker and she would take me home for lunch sometimes.  It was cool.
When we were looking for a preschool for my son, we were so lucky to have two good preschools within walking distance of our house.  I will never forget the experience of taking his little hand and walking him out of my arms and into school for the first time.  Or the fast walk home to cry until it was time to pick him up again.  We grew to love our walk to school together.  The anticipation on the way there of what they would be doing that day and on the way home the sharing of what he had learned and experienced was priceless.  Feeling the sunshine on warm days…dodging raindrops and jumping into puddles…trudging through the blizzard of '10…
It was just what we did. We didn't do it for health reasons, but what a nice benefit that was!  It gave my son lots of energy on the way to school and helped him relax a bit on the way home.  This is especially important with today's overuse of television and video games instead of active play.  October is International Walk to School Month (who knew?!) and in honor of it, Green Works has created a fun website to help families join the fun and walk or bike to school and in the process, earn some money for their school to the tune of $5,000. Parents can sign up here.  The top five schools with the highest participation could earn the big prize of five grand, but there's also individual prizes as well!
Remember, too, that walking to school is a great way to be "green."  Every school is trying hard to be more green (or they should be)-paper recycling centers, cutting back on paper usage, and reusing as much as possible all work together to help make this world a little bit better. 
So go green, use Green Works, and earn a little green for your school!
TKDDaughter gives the Green Works Walk to School Challenge a big:

"I wrote this review while participating in a blog tour campaign by Mom Central on behalf of Clorox Green Works and received a $30 thank-you gift certificate."
At the end of last school year, I made the decision to do a "Mama school" for my son. I knew that if he wasn't challenged during the summer, he would lose some of the skills that he had so painstakingly learned in preschool.  Together we chose topics that interest with him and I spent oodles of hours prepping preschool lessons for us to do.   As I prepared these lessons, I realized that most of them dealt in some way with science. 
I am definitely a "humanities" kind of girl so this science thing is a challenge for me, but I love the fact that my little guy has such an interest in it.  Recently we discovered a magazine that is perfect-it's called Mad Science KNOW Magazine.  The magazine is colorful, informative, and most importantly, age-appropriate-for kids ages 6-9.  My son is a huge fan of experiments and the magazine contains easy experiments with colorful pictures.  You can check out the website here.
If you have a 6-9 year old with an interest in science OR you have a child who you want to instill a love of science, you will love this magazine published every other month.  It's fun learning, but shhhh!!  Don't tell your kids there is learning involved!
TKDDaughter gives the KNOW Magazine:

"I wrote this review while participating in a blog tour campaign by  Mom Central on behalf of Mad Science and received the products necessary to  facilitate my review. In addition, I received a gift certificate to thank me  for taking the time to participate."
All of our vacations in the first 5 and a half years of our son's life have been to beach condominiums.  Essentially, it's like being at home-someone else's home.  So when we got to our vacation this past December to see the famous Mouse and friends, our son walked into the hotel room (a pirate room, but still…), took one look around at the one room hotel and asked, "Where's the rest of it?" and walked into the bathroom expecting it to be a hallway to the other rooms. 
And while this room was cool, he still felt uncomfortable.  That's why l love Marriott's new "Nickelodeon Your Stay" campaign.  At nearly 2,000 Marriott hotels, kids are given a cool Nickelodeon bracelet and a code for free online games a Nick.com as well as an activity mat.  Plus, if you eat at one of the hotel restaurants, kids get a special place mat with one of their favorite characters.  So, kids feel important and comfortable and most importantly at home. 
For a small fee, you can upgrade the package to include all of the above and a storybook and either a SpongeBob or Dora the Explorer pillowcase.  My kiddo got a Spongebob pillowcase and I can tell you, he loved it and I know it would make him feel a lot more comfortable at a hotel. 
Check out the website for more information as well as some freebies-coloring pages, a travel journal, and travel bingo pages. Kudos to Marriott for this great idea to make kids feel a lot more included in their hotel stay. 
TKDDaughter gives Marriott's Nickelodeon's Stay Your Way a:

I wrote this review while participating in a blog campaign by Mom Central on behalf of Marriott and received a Nickelodeon gift pack to facilitate my candid review. Mom Central also sent me a gift card to thank me for taking the time to participate.