I work three jobs.  My days start at 5 A.M. and it ends most nights at midnight.  With just a short break in the afternoon to pick up my son and feed him dinner, time is tight.  Like most parents, I would prefer to make all of our dinners from the freshest materials and always from scratch, but that's just not possible.  So often, I have to turn to something fast and easy.
Banquet has been helping busy families out with dinner for 50 years now. During the last two weeks, with extra hours at work, I turned to Banquet to provide some balanced meals for my family.  A favorite frozen entree of mine has always been Salisbury Steak.  Now that I have a son, we can't pass up Chicken Nuggets, his favorite food! I'm so thankful to have an easy and tasty alternative for dinners!
As Banquet's way of saying thanks to all their loyal customers, they have launched their Banquet Thanks a Million Instant win game.  Look for the "Thanks a Million" logo on their frozen entrees which contains a game piece for prizes ranging from a Banquet coupon to $100,000!  I'd say that's a nice way to say thanks! 
For giving me something less to think about at dinnertime and for giving me hope that I can get rid of one of my jobs by winning one of these prizes, TKDDaughter gives Banquet:

"I wrote this review while participating in a blog campaign by Mom Central on behalf of Banquet and received a sample to facilitate my candid review. Mom Central sent me a gift card to thank me for taking the time to participate."

 
My son has a habit of answering me when he's not really listening. He somehow hears what I ask, answers one of the options I have provided, then promptly freaks out when I hand him the milk he said he wanted, or the tortilla chips, or the shoes, etc. I kind of thought this behavior wouldn't start occurring until he was at least an adolescent. Not so.
Hasbro has created series of games set to address the listening issue, as well as other issues that challenge children. Thank you!!!! The Learning to Listen Pizza Palace game is a blast! My son was excited to sort out the pieces and begin playing. The game includes the parts of the game, as well as a book and a CD to enhance play. My son loved the pizza boxes and silly toppings. While he did stray a bit from the directions (instead of placing the pizza order, we had a full-blown delivery service), he followed the concept of listening in order to get the correct pizza toppings on the pizza. I thought it was exciting to see where his imagination went after starting to play the game. And frankly, I didn't think he was listening to my pizza order, but he was and did a great job baking my pizza and delivering it in 30 minutes or less!
There are two other versions of the games…Learning to Share and Learning About Manners. This game was such a hit in our house, I will definitely be seeking out the Learning about Manners game. Boy do we need help with that! You can actually enter to win one of 200 games that Hasbro is giving away. And if you don't win it there, you can get this game in stores already.
Add this game to your holiday shopping list! I give this game a:

After spending much time unpacking from our recent move, we were delighted to find the Noodleboro Manners game arrive on our new doorstep this week. We quickly unwrapped the game and got down to business.
The game board looks like a picnic tablecloth. It comes complete with a picnic basket and tokens that have various images on them like lemonade or apples. Players take turns using good manners to ask permission to pick a token and see if it matches the color on their side of the "tablecloth." Sometimes you even get a token with an ant on it. As long as proper manners are used, "please" and "thank you" most notably, then the game continues as normal. If manners are forgotten, players lose a token and risk losing the game.
My daughters are ages 2 and 7 and we had a great time playing the game. It was quick enough to keep the little ones attention and simple enough to play that the girls could even play by themselves.
Perhaps the best part of the entire game package is the accompanying CD which takes you from the beginning of the picnic until the end, including an ant invasion. The girls had a blast playing the game and then spent the rest of the afternoon creating their own musical show thanks to the CD.
In addition to the game and CD, the Noodleboro game also comes with a very nice book about manners. What's impressive about the game is that there are three different mediums to reinforce good manners: the game, the book and the CD.
If you're looking for a game your young children will enjoy, that doesn't take hours to play, and helps to reinforce things you're already trying to teach your kids, then you might want to give the Noodleboro games a try. The games are set to premiere this fall and they're not just limited to good manner games. There are also games that reinforce sharing and listening. Oh, why couldn't they have sent us one of each???
If you'd like to purchase your own game, you can do so here in The BBM Review store.
For being a fun game that doesn't just stop when the game is over, BBM gives the Noodleboro Manners game. . .

As a keen martial artist and a lifelong video game fan, combining the two is one of my favourite things. The Beat 'Em Up genre has been around for nearly as long as the first video games now, and have come a long way from their roots in the form of games such as Karate Champ (fans of Bloodsport will remember Mr Van-Damme playing this in the hotel lobby).
Virta Fighter 5 carries on Sega's pedigree lineage in the VF series, with the latest two iterations of the game being widely regarded as the finest fighting games ever created. The 2D purists will argue that Street Fighter 3: 3rd Strike perhaps deserves that mantle, but there's no denying the fact that Virtua Fighter 5 is an awesome game!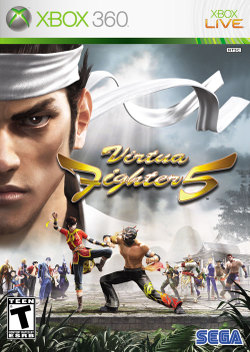 Fans of the series will be pleased to see familiar favourites back again and spruced-up with glorious, shiny HD visuals. Stalwarts such as Akira and Jacky are still going strong, and the newcomers El Blaze and Eilieen (Lucha Libre and Monkey-style kung fu respectively) make their presence felt from the get-go. On the subject of styles, there's a wide variety represented with varying levels of realism; everything from Judo to Shaolin Kung Fu so there's bound to be something to please everyone.
The presentation and graphics are gorgeous, as you'd expect from a next-generation title, and one ported from a hugely successful arcade title. This is actually the Rev.C version, as opposed to the Rev.B which was used in the PS3 version, the geekier of you may be intrigued to hear. What this means to the vast majority of people who'll play this is negligible though, you just need to know the CPU plays a mean game and is no walkover! It's in Vs mode that the game really comes to life though, be it two people in the same room playing, or over the outstanding Xbox Live online implementation.
It's not an easy game to play at first, but if you put the time in working through the Dojo training area and the vast Quest mode – where you can customise your character's appearance and improve your Kyu/Dan ranking – it's a rich, rewarding experience and one which will last a long time. People new to the game won't find it too daunting to pick up, the premise of Virtua Fighter's system has remained unchanged throughout its history – a button to punch, one to kick and one to guard. That's it. The vast range of moves are executed with a combination of the joystick and buttons. The only difficult choice is which one of the 18 characters to use!
Fighting game fans rejoice, finally something worth sinking your teeth into on the 360! Just be warned that the learning curve (especially online) can be quite steep.
ESRB rating: Teen
TSDAdam gives Virtua Fighter 5 a BBMReview rating of….