Did you know that November is National Diabetes Awareness month? Did you know that each year, over 15,000 children are diagnosed with Juveile Diabetes? Diabetes is a disease that hits very close to home for me. My Mom is a Type 1 Diabetic and has been insulin dependent for over 31 years. My Mom was diagnosed with gestational diabetes when she was pregnant with my younger sister. She hoped and prayed that it would go away, but it didn't. Hers was a rare, adult onset of juvenile diabetes.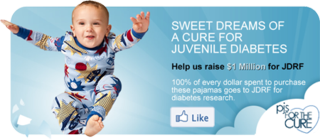 For many years, my Mom was tied to daily insulin shots (several times a day) and frequent finger sticks as she continually tested her blood. It sounds like more of an inconvenient disease, but there's much more to it than that. I remember coming home from school as a little girl to find my Mom unconscious and in insulin shock. She always took really good care of herself, but diabetes is an unpredictable disease and when you're a brittle diabetic, it makes it even worse. I can't even tell you how many times I saw my Mom disappear into an ambulance. It was terrifying.
Today, there have been many advances. My Mom uses a sensor that beeps and alerts her when her blood sugar is dropping. She also uses an insulin pump which eliminates the need for constant injections. However, the pump is a tethered reminder of her disease and she rarely gets an uninterrupted night of sleep without her sensor waking her up. It is a disease that robs you of many of your freedoms and it is life changing, not only for those who have it, but for the family members that face it as well.
I had just a brief taste of what it was like when I was diagnosed with gestational diabetes during my second pregnancy. The frequent finger sticks and blood tests were an annoyance and low blood sugars, after I took my medications, were scary. I was elated when I delivered and was told I was in the clear. However, it is something that is always on my mind. Diabetes tends to run in families and we are careful to watch our sugar intake in our household. Sugar doesn't cause the disease, but it's certainly an enemy of every diabetic.
This year, the JDRF has found an amazing way to raise money and I hope you'll join me in supporting the cause. Spearheaded by Komar, the largest sleepwear manufacturer in the United States, PJs For The Cure was created to benefit JDRF. PJs For The Cure offers specially designed women's and children's pajama sets and 100% of every sale from PJs For The Cure will be donated directly to the JDRF to fund further research to find a cure for juvenile diabetes. Their goal is to raise $1 million in support of JDRF. For more information and to support the cause, I encourage you to visit the PJs for The Cure Facebook page. Please "like it" and encourage your friends and followers to do the same.  You can buy your own set of PJs or just check them out here.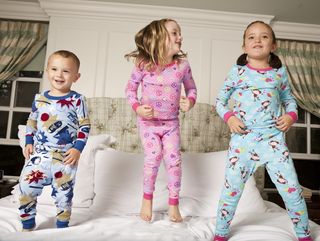 One lucky reader will receive a pair of the women's, girl's, or boy's pjs. Please leave a comment telling me your favorite thing to do in your pjs. Entries must be received no later than this Friday at midnight! Please check your email so you can shoot me back your name and mailing address if you're the winner! Good luck!
I wrote this review while participating in a blog tour by Mom Central Consulting on behalf of Komar and PJs For The Cure and received a gift card to thank me for taking the time to participate.
I teach.  I teach in a private high school.  Money is tight,  our budget is low, we reuse everything and our technology fails constantly.  Many days we have no paper.  It is frustrating to want to do the best by our students, but not to have the money to do so.  However, we do it.  We find other ways to teach successfully.  We get creative.  We find a Plan B, or C, or D.  We do whatever it takes to be the most effective teachers we can with whatever resources we do have.
Bing recognizes the need for more school funding. In order to show their support for all those who assist in the educational process, they are running the Bing's Our School Needs Contest.  Teachers and students have until Friday, October 22nd to submit an entry to show Bing through essays, videos, or photographs what they think their school needs the most.  Bing will be giving away up to a million dollars in prizes and donations. 
Does your school have a need?  Check this video out, then go here to learn the details and how to enter the contest.  Voting begins on October 27th, so check back on the site then to vote for your favorite school.
For doing the right thing and providing schools with a chance to do more, TKDDaughter gives Bing and the Our School Needs contest a:

"I wrote this review while participating in a blog tour campaign by Mom Central on behalf of Bing and received a DonorsChoose.org giving code and gift card to thank me for taking the time to participate."

When I was a in elementary school, I was always envious of the "walkers."  These were the kids who lived close enough to school to walk.  I lived far from my elementary school, so I had to take a bus.  As a "busser" I could not go home for lunch.  When we had our annual Halloween parade, I had to change at school, but the walkers got to go home and change.  Luckily a friend of mine was a walker and she would take me home for lunch sometimes.  It was cool.
When we were looking for a preschool for my son, we were so lucky to have two good preschools within walking distance of our house.  I will never forget the experience of taking his little hand and walking him out of my arms and into school for the first time.  Or the fast walk home to cry until it was time to pick him up again.  We grew to love our walk to school together.  The anticipation on the way there of what they would be doing that day and on the way home the sharing of what he had learned and experienced was priceless.  Feeling the sunshine on warm days…dodging raindrops and jumping into puddles…trudging through the blizzard of '10…
It was just what we did. We didn't do it for health reasons, but what a nice benefit that was!  It gave my son lots of energy on the way to school and helped him relax a bit on the way home.  This is especially important with today's overuse of television and video games instead of active play.  October is International Walk to School Month (who knew?!) and in honor of it, Green Works has created a fun website to help families join the fun and walk or bike to school and in the process, earn some money for their school to the tune of $5,000. Parents can sign up here.  The top five schools with the highest participation could earn the big prize of five grand, but there's also individual prizes as well!
Remember, too, that walking to school is a great way to be "green."  Every school is trying hard to be more green (or they should be)-paper recycling centers, cutting back on paper usage, and reusing as much as possible all work together to help make this world a little bit better. 
So go green, use Green Works, and earn a little green for your school!
TKDDaughter gives the Green Works Walk to School Challenge a big:

"I wrote this review while participating in a blog tour campaign by Mom Central on behalf of Clorox Green Works and received a $30 thank-you gift certificate."
All of our vacations in the first 5 and a half years of our son's life have been to beach condominiums.  Essentially, it's like being at home-someone else's home.  So when we got to our vacation this past December to see the famous Mouse and friends, our son walked into the hotel room (a pirate room, but still…), took one look around at the one room hotel and asked, "Where's the rest of it?" and walked into the bathroom expecting it to be a hallway to the other rooms. 
And while this room was cool, he still felt uncomfortable.  That's why l love Marriott's new "Nickelodeon Your Stay" campaign.  At nearly 2,000 Marriott hotels, kids are given a cool Nickelodeon bracelet and a code for free online games a Nick.com as well as an activity mat.  Plus, if you eat at one of the hotel restaurants, kids get a special place mat with one of their favorite characters.  So, kids feel important and comfortable and most importantly at home. 
For a small fee, you can upgrade the package to include all of the above and a storybook and either a SpongeBob or Dora the Explorer pillowcase.  My kiddo got a Spongebob pillowcase and I can tell you, he loved it and I know it would make him feel a lot more comfortable at a hotel. 
Check out the website for more information as well as some freebies-coloring pages, a travel journal, and travel bingo pages. Kudos to Marriott for this great idea to make kids feel a lot more included in their hotel stay. 
TKDDaughter gives Marriott's Nickelodeon's Stay Your Way a:

I wrote this review while participating in a blog campaign by Mom Central on behalf of Marriott and received a Nickelodeon gift pack to facilitate my candid review. Mom Central also sent me a gift card to thank me for taking the time to participate.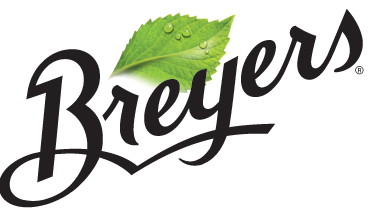 I'm not going to lie to you, readers…I am not a big fan of ice cream.  Let me give you a moment to digest this…are you ready?  Okay, moving on.  Everyone in my family loves it, but while I enjoy it on occasion, I don't need it every time we have a birthday cake and I often don't buy a cone when everyone else does.  Crazy, eh?
Well, that kind of changed this week.  I was introduced to Breyers Smooth and Dreamy bars, and while I know they'd like to read some original writing, I have to tell you that these bars are just simply smooth and dreamy!  They boast being lower than 160 calories, which is fabulous (and helps if you want a treat while dieting), but I could have eaten the entire box in one sitting!  We had the Triple Chocolate Chips one that actually had a bit of fudge in the middle-OH MY!  They are amazing!  We finished the box off in two days and on my shopping list for next time is the Chocolate Covered Strawberry ones-yum!
What's even better is this:  I am GIVING AWAY FIVE COUPONS FOR A FREE BOX OF these fabulous bars!!!  In the comment section, please leave your favorite ice cream memory for a chance to win one of these five coupons!!  Leave your comment by Wednesday, July 28th at midnight, eastern time. 
Even if you don't win the coupon, go buy these now!  They are a summer must-have!!!
TKDDaughter gives Breyer's Smooth and Dreamy Bars a:

"I wrote this review while participating in a blog tour campaign by Mom Central on behalf of Breyers and received products necessary to facilitate my review. In addition, I received a gift certificate to thank me for taking the time to participate."