This is a compensated review by BlogHer and Jimmy Dean; however, the opinions and views expressed are my own.
New Years resolutions are frequently forgotten about one week into the new year. People often choose resolutions that are too tough to stick to or too much of a reach. I'm not going to make that mistake this year.
Instead of waiting until the New Year to start really getting into the workout mode again, I started a couple weeks ago and it's been going well. I know that it's difficult for me to get motivated to work out on my own, so I set up a bunch of personal training sessions with an affordable trainer who I've worked out with before. He's been busy making me sore and miserable (in a good way) for a few weeks now.
The best thing about him is that it's not all about pushing weights around. He's also talked to me a lot about nutrition and especially about protein. If you're going to work out in the morning, you need to eat protein before you go; and when you come home, a sensible lunch and a protein shake later in the day really make the difference between sticking with your workout plan and finding yourself elbow deep in a container of cheese balls.
Last week when I worked out with him, I had a bagel before I went to workout. Half way through our workout, I was dead tired. Today, I had a protein shake before going for my workout and the difference was unbelievable. It took longer for my muscles to fatigue and I felt stronger overall. And those kinds of feelings can become addicting, which is exactly what I'm hoping will happen.
Over the summer, I was one of the fortunate ones who got to spend some time with Jimmy Dean's "The Sun." He and a celebrity chef made me three different meals with different Jimmy Dean products, and I was a happy and full girl by the time the show was finished filming.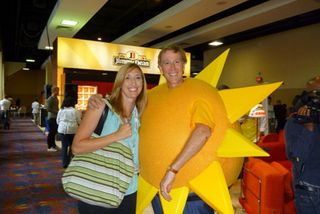 Recently, I was told about a new Jimmy Dean product called "D-Lights." This is the perfect way to get my protein each morning and I am looking forward to giving them a try this week.
For your chance to win a $100 Visa gift card, respond in the comments section below and tell me how you plan on making choices that are better for you in 2011. For the official round-up page, click here. 
The sweepstakes runs from December 28, 2010 to January 30, 2011 and is only open to individuals who, at the time of entry deadline, are legal residents of the United States and are 18 years or older.  Winners will be randomly selected from all eligible entries.  Click here for official rules.  Here are the basics:
Rules:
No duplicate comments.  You may receive (2) total entries by selecting from the following entry methods:
a) Leave a comment in response to the sweepstakes prompt on this post
b) Tweet about this promotion and leave the URL to that tweet in a comment on this post
c) Blog about this promotion and leave the URL to that post in a comment on this post
d) Read the official rules for alternate form of entry.
This giveaway is open to US Residents age 18 or older.  Winners will be selected via random draw, and will be notified by e-mail.  You have 72 hours to get back to me, otherwise a new winner will be selected.
Good luck!
Until a few years after we got married, my husband was not a coffee drinker, so alone I would sit on weekend mornings, enjoying my cup of coffee.  Slowly, he began to join me and now needs his morning cup to get his day started, too.  Only thing is, I drink decaf mostly. I have a pretty severe reaction to caffeine, so I avoid it as much as possible.  So, my husband, who loves and often needs caffeine, is confined to a pot of decaf first thing in the morning.
This is what makes us love our Nescafe Dolce Gusto coffee machine even more-he can get his caffeine and I can stick with my decaf.  He also likes very sweet coffee, and I tend towards just a little cream.  My favorite is the Caffe Lungo Decaf-it's a flavorful, bold coffee, but no caffeine to make me crazy.  The hubby's favorite is the Vanilla Macchiato. My only issue with it – and it's a small and common issue- is that there aren't a few more decaf choices.  There are many other options, though, including cold beverages.  So whether you need a warm cup of comfort or a cold, refreshing beverage, the Nescafe Dolce Gusto is the right choice for anyone!
We are so happy with this machine.  It's the perfect addition to our kitchen "family" and has allowed us to enjoy the kind of coffee we want, whenever we want it!
TKDDaughter gives the Nescafe Dolce Gusto a:

"I wrote this review while participating in a test drive campaign by Mom Central Consulting on behalf of NESCAFÉ Dolce Gusto and received a coffee machine to facilitate my review."

Sleek.  Stylish.  Modern, yet classic.  A statement.
Never in a million years did I ever think I would  use those types of words about a…coffee maker!  Yet, here I am.  You see, there's a new addition to my kitchen and it's making all the other appliances.  Here it is: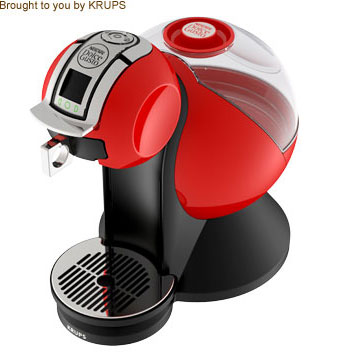 You see it now, don't you?  It's awesome!  It's the Dolce Gusto Creativa!
This machine is an instant update for anyone's kitchen.  And I'm telling you…your other small appliances are going to be turning green with jealousy.
Interested in this machine?  Come back tomorrow to read about how well it works and the flavor choices.  To tide you over until then, check this out.  See you then!
"I wrote this review while participating in a test drive campaign by Mom Central Consulting on behalf of NESCAFÉ Dolce Gusto and received a coffee machine to facilitate my review."

About seven years ago, when we renovated a kitchen in our newly purchased Victorian home, we wanted to do it right so we made sure to buy the fridge maybe not of our "dream" kitchen, but certainly one a big step up from our last one.  My one request?  Water in the door.  I loved this feature on my fridge…until I realized the filter needs changing every three months.  The $40 filter every three months just doesn't fit into our tight budget.  Instead, we switched back to a water pitcher in the fridge. 
The Filtrete Water Pitcher from 3M is the perfect fit for our family.  It's space-saving shape allows us to fit in all the other "necessaries" in our fridge (you know, things like chocolate cake…) and still have room for the water pitcher.  The water has a clear, untainted taste, and the filter filters the water super fast, five times faster than other water filters!  The ease of the pitcher has my family drinking a lot more water!
Filtrete also has a registration system that sends you seasonal newsletters, better living tips, and money-saving offers, but the best reason to sign up?  They'll send you filter change reminders.  Sign me up because I never remember when the last time I changed the filter was! You can also follow the Filtrete brand on Twitter andFacebook.
Best part yet, just for reading this post, you can take advantage of this coupon!
TKDDaughter gives the Filtrete Water Pitcher a:

"I wrote this review while participating in a blog campaign by Mom Central on behalf of Filtrete and received the water pitcher to facilitate my candid review."

Did you ever have one of those days like the one I'm having today? My daughter is home for the 3rd straight day from school with the same virus that I'm still trying to recover from. My little one woke up entirely too early and has made me pay for it all day thanks to her lack of sleep. I spent my entire day cleaning (including eight loads of laundry) and if someone was to walk into my house right now, they would wonder if I was telling the truth. Yes, it took me that long to clean five rooms upstairs. Finally, my husband arrived home late from work, after we had already eaten dinner AND he is currently on his way to the ER vet with my beloved 14.5 year old cat, Bear.
As I sit to write this review, I noticed a cool air on my stomach and looked down to find that my fleece zipper jacket has split from the bottom up.
Fantastic.
It's days like these that call for some Pillsbury Sweet Moments. It's pretty much what they're made for and their entire reason for existence. One might not believe that something so amazing could come in such a wonderfully small package, but it delivers. Take my word for it.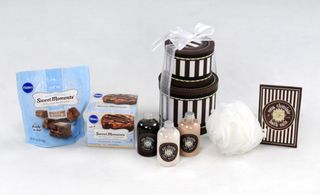 Coming in several varieties, including the little brownie bite sized wonderfuls that I found, Pillsbury's Sweet Moments are meant to be small rewards with big chocolately flavor. The brownie bites reminded me very much of the moistness of a coca-cola fudge cake, with the crackly goodness on the outside of one of those delicious ice cream sundaes with that fudge that you squeeze on and then let it get hard and form a smooth chocolate surface.
If you can restrict yourself to just one (and hide them properly from the rest of the family), these little delights are the perfect way to reward yourself for those eight insane loads of laundry.
If you'd like to try them for yourself, simply leave a comment below telling me why you could use a "sweet retreat" and you could win a coupon to try Pillsbury's Sweet Moments, along with a bath spa prize pack that will have you eating, bathing in and smelling like chocolate!  Comments must be received by November 11th, 2010!
By the way, if you do go looking for these products, you can find them in the refrigerated foods section, near the cream cheese and refrigerated cookie dough, NOT in the freezer section (where I spent 20 minutes looking for them). 😉
Pillsbury provided me with free product, information and a prize pack through My BlogSpark.