My husband has a degree in chemistry and for the LONGEST time, I've been begging him to invent and create an SPF pill. After years of slathering goopy lotions on my kids at the pool and beach, it would be a fantastic improvement.
And then these Shady Day Sunscreen wipes arrived in my mailbox (thank to Mom Central). I'll admit it. They seemed entirely too good to be true. I figured they would either stink or be greasy and nasty, OR worse yet, they wouldn't work.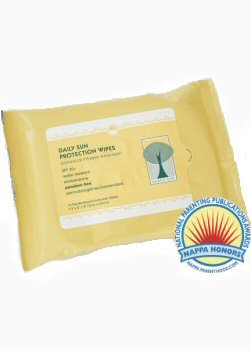 So, I threw them in my beach bag and we took them to the beach with us. When I pulled the first wipe out I was pleasantly surprised. I am frequently turned off by smelly lotions and products, but the fragrance on these was light and nice. The wipe itself was soft. I used it on both of my girls and on myself. One wipe covered my 4-year old's entire body.They are absolutely genius for the face. Say goodbye to sunscreen in eyes and gooped up in the hair.
I passed a couple wipes off to our hosts for the weekend at the beach and they liked them too. The feeling on the skin after gently moving the wipe over the skin was smooth and silky, not slippery or greasy.
I figured if they smelled this good and felt this awesome, they couldn't possibly work that well.
But they did! No one who used a wipe got even a spot of sunburn the entire weekend at the beach. The wipes were large enough that they really lasted and the time it took to use the wipes was next to nothing compared to the time it takes to lotion up every part of the body with SPF goodness. Another benefit of using these wipes is that they feel kind of cool, but in a good way. It's not like that brutal first squirt of sunscreen lotion that usually gives you a chill right down to your toes.
This is one product that I am totally psyched about! They're not cheap (about $14 for one pack of 15), but they are worth every penny (in my tired of slathering kids opinion).
BBM gives the Shady Day Sunscreen Wipes a . . .

This review is sponsored content from Shady Day and Mom Central. A product sample was provided.
My husband has been wearing glasses forever.  He often tries out contact lenses, but finds them uncomfortable.  Glasses, however, can take a beating when worn continuously especially when doing the renovation projects of the magnitude we have in our house.  So, he needs comfortable glasses that are durable.
Back in the late fall, we were asked to try out a pair of Airwear lenses.  After a few complications, my husband has declared these lenses super comfortable.  Airwear lenses are 30% lighter and 10 times more impact resistant than standard plastic lenses.  This comes in handy when wrenches are falling when he's working under the car or as he bangs his head on the boards he is cutting for the new porch railing. 
Since it's Earth Day, we can celebrate Airwear lenses because of their green quality.  100% of the product waste from Airwear lenses is recycled reducing their environmental footprint that occurs during production. 
We did have some issues with the company.  It took a very long time to receive our lenses, and when we got the first set of lenses, there was a flaw in the lenses that made it blurry for my husband.  They rectified the situation and my husband is now comfortably wearing his lenses.
TKDDaughter gives Airwear lenses a:

I wrote this review while participating in a blog tour campaign by Mom Central on behalf of Airwear and received a pair of Airwear eyeglasses lenses to thank me for taking the time to participate.
I am a connoisseur of body wash. Just ask my husband. I rarely come home from the grocery store without some kind of body wash. I am always trying new ones and hoping they will actually do what they say they will. I am one dry skinned girl during the winter and nothing ever seems to help.
Olay Total Effects Body Wash totally does help.
Olay Total Effects is supposed to improve elasticity, relieve dryness, deeply condition skin, brighten dull skin, even skin tone, smooth rough skin and minimize the appearance of dry lines.
After receiving a sample from Olay via MyBlog Spark, I paced myself and used the entire bottle over the course of several weeks. The wash itself is a thick one. In other words, you won't end up using half the bottle after just one use. It lathers nicely and a little really does go a long way. Not only does it smell really nice, but the results when it comes to my skin were pretty amazing. Dry patches completely disappeared and even the scaly parts on my hands were greatly improved. After a month of using it, I don't know if I'm younger looking (I'm fairly critical of my wrinkles), but I can definitely say I'm more moisturized than I've been in a very long time.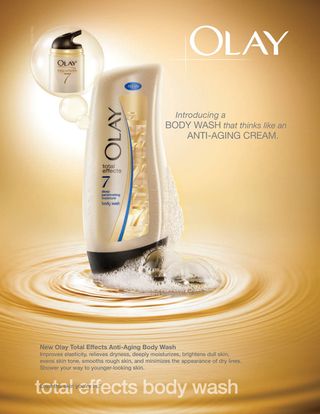 After only one use, I can definitely agree with their claim that my skin was softer. It's one body wash that is going to go on my list for repeat usage. It's not simply a soap people. This stuff is serious.
Because I like the results so much, I'm going to give one lucky reader a $10 Walmart gift card, courtesy of Olay and MyBlog Spark, so you can try it for yourself. All you need to do to be entered to win is leave a comment telling your best secret for staying young. Knock my socks off people; now it's your turn. . .
Leave a comment by April 15th for your chance to win.
This is a compensated review from Sonicare for Kids and BlogHer.
I'll be honest. I always thought that the people who spent mucho dinero on toothbrushes that came in a box were insane. I mean, the dentist gives you a free one every six months. What did I need with one of those crazy Sonicare toothbrushes. More so, why would my kids ever need one?
People, Sonicare has made me a believer.
At first I was worried about whether or not my kids would go for it. Sonicare for Kids does not come shaped like a princess or a mermaid. It does have interchangeable panels for the front of it, but they're definitely more generic than your grocery store toothbrush. I wasn't sure I could get my girls to switch.
However, when it came, it was red and my girls liked that right away. It also came with two different toothbrush heads which was perfect considering one was for 4 year olds and the other was for bigger kids, 8+. My girls are easily able to tell their toothbrush head apart since one is red and the other is blue. They quickly learned how to pop their toothbrush head onto the Sonicare and get busy.
Right away, I fell in love with the Sonicare for Kids and it's special feature to make kids brush longer. Every minute, for four minutes, the toothbrush plays a little part of a song. When you complete the entire time, it plays the entire little tune. We went from brushing for only seconds to brushing for the full time overnight and I know that will make a big difference in their oral health.
The toothbrush comes with two settings and the girls can easily turn the toothbrush on with their recommended intensity by themselves. I thought it would take some time to get used to the Sonicare for Kids, but it has become a wonderful addition to our family and the girls' brushing routine.
I can speak for myself on this issue, as I also received a Sonicare FlexCare to try. It is like visiting the dentist every single day, twice a day and it's amazing. The clean that you get from it is completely unlike any other toothbrush I have ever tried. My teeth feel silky, the way they do when you leave the dentist. In fact, when I visited the dentist last week and told them we're using Sonicare's now, they were thrilled! They said they notice a big difference in their patients who use Sonicare's.
My only criticisms of the toothbrush are that one needs to be really careful with little ones. The toothbrush head for my 4-year old doesn't stay on the way it did when we got it. She says she didn't drop it or anything, but whatever held the head on tightly doesn't work anymore. Now we have to hold it on until we get a new toothbrush head. My only other criticism is that the Sonicare is pretty intense and one needs to make sure that when you turn it on, the toothbrush is in your mouth! If not, the spray from the toothpaste is going to make cleaning your vanity a daily thing. I happened to spray myself in the eye the first day I used it; but people, let me just tell you that you only make that mistake once. This shouldn't be a reason to prevent you from getting one yourself.
A Sonicare for Kids starter package starts at around $69.99. The package comes with two brush heads, three interchangeable plates for when your kids get bored with the looks of the toothbrush, a plug-in charger and complete instructions. You can find brush head replacements for around $21.99 for a package of two. A Sonicare for Kids toothbrush would make a great Christmas gift for kids.
I never understood why people would spend so much money on a toothbrush, but I now know that the family and I will be life-long converts. Thank you Sonicare and BlogHer for the opportunity to review these wonderful products!
You don't have to be a BlogHer reviewer though, to try the Sonicare. You can enter for one of eight chances to win a $100 Visa card or a Sonicare prize package below. You can also check out the other reviews simply by going here.
If you'd like more information, directly from Sonicare, please click here.
Contest Rules:
To enter to win a $100 Visa card, leave me a comment below and tell me "How do you handle your kids' dental hygiene?" – or you may leave a link to your post on your own blog in the comments below.  The contest will begin at 9:00 a.m. (PST) 10/15/2009 and will end 5:00 p.m. (PST) 11/15/2009.  Make sure that the e-mail address you leave is correct. 
Rules:
No duplicate comments.

You may receive an additional entry by linking on twitter and leaving a link in the comments.

You may receive an additional entry by blogging about this contest and leaving a link in the comments.

This giveaway is open to

US-residents, 18 years of age or older

Winners will be selected via random draw, and will notified by e-mail.

You have 48 hours to get back to me, otherwise a new winner will be selected.

Please see the official rules

here

.
Winners will be chosen with this random generator. There are eight reviewers which means you have eight chances to win a $100 Visa card so you can buy your own Sonicare for Kids. And, there's also the Sonicare prize pack. Visit the link above for the complete round-up! Good luck!
BBM gives the Sonicare for Kids. . .

This is a compensated review from BlogHer and L'Oreal Paris.
When I first "met" Lisa aka Clusterfook, it was online. She was writing a blog called "Not the 'C' word" for our local online newspaper, and I was publishing a syndicated version of my own blog at the same place. My visitors were frequently unfriendly, as our area is not known for having the nicest people; but Lisa became a visitor and left me a friendly comment which prompted me to visit her blog.
I started reading her archives and realized she had been through quite an ordeal. Recurrent ovarian cancer was her diagnosis and she was finally free from it. . . or so she thought.
As I began to follow her main blog, "Clusterfook" I realized that her battle was just again beginning. Lisa went through months of surgeries, missed diagnoses, and pain before she finally decided that her fight was over. No matter what she did, her cancer got worse. No matter how her readers hoped and prayed, it wasn't going to bring a cure.
I met Lisa at Tequila Con in Philadelphia and was amazed at her sunny outlook despite her diagnosis. It wasn't long though, before going places like Tequila Con couldn't happen anymore. Lisa entered hospice care.
When I don't know what to do for someone in this situation, I cook. So when Karl came to visit Lisa to get her blog in order before she passed, I cooked up a ton of food and sent it back to her house with him. A few weeks later, I cooked up a storm again and delivered it myself. It was just three days before Lisa passed and although really difficult, after she was gone, I was glad that I was able to see her one last time, squeeze her hand and tell her goodbye.
Before, all I could do was cook. Now I can do something else and you can help too.
L'Oréal Paris has partnered with the Ovarian Cancer Research Fund (OCRF), and has created a "Color of Hope" make-up line to help raise money for research. The purchase of individual items (including eye shadow quartets, lip sticks, lip glosses, and nail polishes will result in a $1 donation per purchased item. The prices of these individual items start at just $4.99 and go up to about $9.99.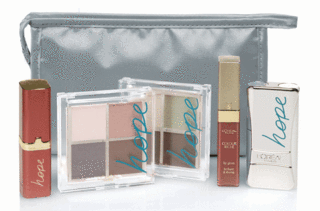 As with the ovarian cancer bracelets that Lisa used to make in pretty shades of teal, L'Oréal Paris has also created a beautiful quartet of teals and blues, as well as collections in mauve and plum. There is something for everyone in this collection.   
If you choose instead to purchase the make-up bag you'll get eye shadow, lip gloss and lipstick (a retail value of $50) for $29.95. The L'Oréal Paris Color of Hope Cosmetic bag will be available for purchase beginning in September 2009. Purchases can be made online via www.lorealcolorofhope.com while supplies last. L'Oréal Paris will donate $5 from each cosmetic bag purchased to the Ovarian Cancer Research Fund (OCRF).
I've had about a week to try the colors out myself. The mauves are just beautiful and the "Color of Hope" lipstick has to be my favorite, tied with the lip gloss. Unlike most lip glosses that have a small want, this wand is soft and helps you to avoid looking "goopy" when you put it on. The teal shadow took some practice at first, but it too is just lovely. Applying it with a q-tip allows for more precise application and that made all the difference.
Because every girl needs some new fall make-up to match the new season's colors, I hope you'll pick up a make-up bag or some of the individual products today. This is a great way to help future generations of women so they don't have to have their lives cut short the way Lisa's was.
For more information and other reviews of new products, check out BlogHer's special offer page for more information.
If you would like more information about L'Oréal Paris' "Color of Hope" program, please visit the L'Oréal Color of Hope site for more information.
BBM gives the L'Oréal Paris Color of Hope line. . .

Have you or any of your friends and family been affected by Ovarian Cancer? What do you think of L'Oréal Paris and their 12 year committment to help the OCRF?