One things I love about putting up Christmas decorations is how each decoration brings up so many memories.  I get to relive my childhood memories, remember those who has passed, and share a special time with my son as I tell him about each ornament.
Some of most favorite ornaments from one of my most favorite companies are the ornaments from Wendell August Forge.  Wendell August Forge  is America's oldest and largest forge creating hand-wrought metalware for over 85 years.  The company continues to be an American company producing American made products.  But better than that, they are a company that completely exhibits the American spirit.  Six months ago, their flagship store, an historic building containing precious items, burned to the ground.  And while this could have destroyed the company forever, the owners and employees dusted themselves off and flourish today.  Their strength and grace in such dire circumstances are an inspiration.  I loved this company before, but now I have a profound respect for their spirit and determination to continue to make American made, hand-wrought gifts for generations to come.
My newest favorite thing from the company is this: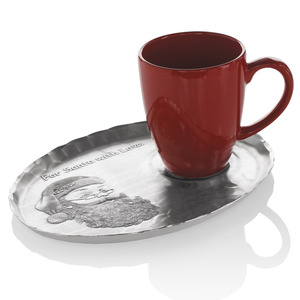 Look at this incredible For Santa with Love plate for Christmas Eve night.  Complete with the red ceramic mug for Santa's cocoa, Santa will be sure to stop by any house with this keepsake.  Santa is lovingly illustrated in extreme detail. When I asked my son what he thought of it, his response, after the squeal of delight, was  "that's great!"  This truly is high praise from a six year old.
There are so many amazing products by Wendell August Forge.   You can buy from them online, or visit one of their four locations.  Some of my most precious wedding gifts came from Wendell August Forge and I have a Christmas dream to add a fifth tree at our house with just Wendell August Forge ornaments. How amazing would that be? 
Can you tell how much I love this company?  If you need gift ideas, visit them and support an American company, producing American-made products, and who, quite literally, has risen from the ashes.
TKDDaughter gives Wendell August Forge, their To Santa with Love plate, and all their other items a resounding:

Until a few years after we got married, my husband was not a coffee drinker, so alone I would sit on weekend mornings, enjoying my cup of coffee.  Slowly, he began to join me and now needs his morning cup to get his day started, too.  Only thing is, I drink decaf mostly. I have a pretty severe reaction to caffeine, so I avoid it as much as possible.  So, my husband, who loves and often needs caffeine, is confined to a pot of decaf first thing in the morning.
This is what makes us love our Nescafe Dolce Gusto coffee machine even more-he can get his caffeine and I can stick with my decaf.  He also likes very sweet coffee, and I tend towards just a little cream.  My favorite is the Caffe Lungo Decaf-it's a flavorful, bold coffee, but no caffeine to make me crazy.  The hubby's favorite is the Vanilla Macchiato. My only issue with it – and it's a small and common issue- is that there aren't a few more decaf choices.  There are many other options, though, including cold beverages.  So whether you need a warm cup of comfort or a cold, refreshing beverage, the Nescafe Dolce Gusto is the right choice for anyone!
We are so happy with this machine.  It's the perfect addition to our kitchen "family" and has allowed us to enjoy the kind of coffee we want, whenever we want it!
TKDDaughter gives the Nescafe Dolce Gusto a:

"I wrote this review while participating in a test drive campaign by Mom Central Consulting on behalf of NESCAFÉ Dolce Gusto and received a coffee machine to facilitate my review."

Sleek.  Stylish.  Modern, yet classic.  A statement.
Never in a million years did I ever think I would  use those types of words about a…coffee maker!  Yet, here I am.  You see, there's a new addition to my kitchen and it's making all the other appliances.  Here it is: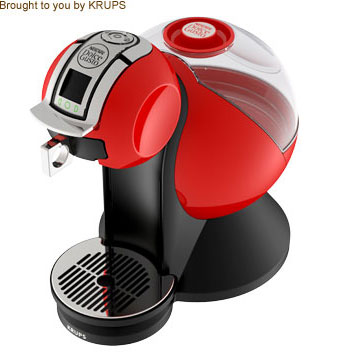 You see it now, don't you?  It's awesome!  It's the Dolce Gusto Creativa!
This machine is an instant update for anyone's kitchen.  And I'm telling you…your other small appliances are going to be turning green with jealousy.
Interested in this machine?  Come back tomorrow to read about how well it works and the flavor choices.  To tide you over until then, check this out.  See you then!
"I wrote this review while participating in a test drive campaign by Mom Central Consulting on behalf of NESCAFÉ Dolce Gusto and received a coffee machine to facilitate my review."

I've been taking prenatal vitamins for the past eight years…eight years.  I don't plan on stopping for at least a few more years.  Most people start taking a prenatal when they find out their pregnant already.  Many other people take a prenatal when they decide to start a family.  We did this, but our plans weren't really in line with what our bodies had in mind.  So I've been using prenatals for all of my thirties.
When I first started taking prenatals, you had to have a prescription to get anything of quality…even with insurance, prices were extremely high.  Now, you can easily grab a prenatal over the counter, but finding a good one that provides you with the ingredients you need is a bit harder. 
Nature Made has made finding a great quality over the counter prenatal vitamin a lot easier.  Nature Made was the first to launch a prenatal with DHA in one single softgel; DHA is the omega-3 fatty acid that plays an important role in brain development.  Containing 800 mg of folic acid, iron, vitamins A, C, D, and zinc, you get all the essential vitamins that you need to get your body in great fertile condition. 
After having taken the Nature Made Prenatal + DHA for a few weeks, I can report that it is an easy vitamin to take…some make me a little sick, but the Nature Made is easy to take and it seems easy to digest.  I'll be continuing to take prenatals until we're finished trying to have children and Nature Made will be my vitamin of choice.  And the cool thing, YOU can win a 9 months supply of Nature made Prenatal + DHA vitamins, 2 packs of clothe diapers, and a food processor.  Just leave a comment below and one winner will be chosen for this awesome giveaway!
TKDDaughter gives Nature Made Prenatal + DHA a

"I wrote this review while participating in a blog tour by Mom Central on behalf of Nature Made and received the products necessary to facilitate my review and giveaway."

Early on, dental hygiene, or since he didn't have teeth then "gum hygiene," was a challenge with my son.  We would take that little rubber finger brush and attempt to pry open his mouth only to get chomped down on when we succeeded in getting in there.  We often could not brush anything for fear of losing a finger.
Now, six years later, oral care has taken on a different meaning in our house-if you brush your teeth and floss regularly, the trip to the dentist won't take as long.  This has been a great motivator in our house!  If you're like us, though, any holidays really messes with the routine.  And Halloween is NOT the time to be putting aside the family oral care with the amount of candy in our house right now.  Listerine has found a way to help with that…they have launched the Listerine Oral Care Challenge in the month of October to help families with all the other months of the year.  My son, husband and I all took the challenge, brushing, flossing, and rinsing every day for three weeks.  We have one week left in our challenge, but we're all doing incredibly well.  We've gotten into the routine of brushing, flossing, and rinsing without too many reminders and my son likes the idea that he's making all future trips to the dentist a whole lot easier. I highly encourage you to challenge your own family with an oral care challenge.
LISTERINE and REACH also did a really cool event for Halloween-they joined forces with "America's Toothfairy" for "Trick or Treat for America's Toothfairy" to help raise awareness of pediatric dental disease and to help provide life changing dental care to children who don't have the access to quality dental care. Check this important campaign out and see all the good work that was accomplished. 
TKDDaughter gives the Listerine Oral Care Challenge a:

"I wrote this review while participating in a blog campaign by Mom Central on behalf of LISTERINE and REACH and received products to take the Oral Care Challenge. Mom Central also sent me a Global Giving gift card to thank me for taking the time to participate."