December 20, 2010
One things I love about putting up Christmas decorations is how each decoration brings up so many memories.  I get to relive my childhood memories, remember those who has passed, and share a special time with my son as I tell him about each ornament.
Some of most favorite ornaments from one of my most favorite companies are the ornaments from Wendell August Forge.  Wendell August Forge  is America's oldest and largest forge creating hand-wrought metalware for over 85 years.  The company continues to be an American company producing American made products.  But better than that, they are a company that completely exhibits the American spirit.  Six months ago, their flagship store, an historic building containing precious items, burned to the ground.  And while this could have destroyed the company forever, the owners and employees dusted themselves off and flourish today.  Their strength and grace in such dire circumstances are an inspiration.  I loved this company before, but now I have a profound respect for their spirit and determination to continue to make American made, hand-wrought gifts for generations to come.
My newest favorite thing from the company is this: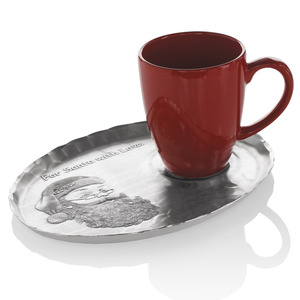 Look at this incredible For Santa with Love plate for Christmas Eve night.  Complete with the red ceramic mug for Santa's cocoa, Santa will be sure to stop by any house with this keepsake.  Santa is lovingly illustrated in extreme detail. When I asked my son what he thought of it, his response, after the squeal of delight, was  "that's great!"  This truly is high praise from a six year old.
There are so many amazing products by Wendell August Forge.   You can buy from them online, or visit one of their four locations.  Some of my most precious wedding gifts came from Wendell August Forge and I have a Christmas dream to add a fifth tree at our house with just Wendell August Forge ornaments. How amazing would that be? 
Can you tell how much I love this company?  If you need gift ideas, visit them and support an American company, producing American-made products, and who, quite literally, has risen from the ashes.
TKDDaughter gives Wendell August Forge, their To Santa with Love plate, and all their other items a resounding:

Comments