December 14, 2010
I am somewhat of a PJ conossieur. I live in them. Sometimes I never change out of them. I have to be honest though. My PJs aren't always that stylish. I'm perfectly happy in an oversized pair of flannel pants along with a fleece sweatshirt. The bedroom is one place in my life where I am simply not all that stylish.
Enter Soma Intimates Personality PJs.
When I saw there was a tour for pajamas, I was all over that. Soma Intimates offers a wide range of pajamas, but their personality pjs are brand new. You can find out what pair of personality pjs fits your personality best by taking this quiz.
Any guesses at to which one I am?
You might be surprised to know that my category was "chic" (followed closely by "wild"). Here is a picture of my pajamas, although that is not me and I tend to button mine up when I wear them.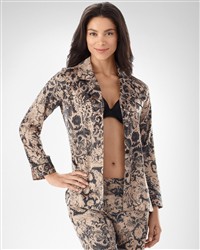 I'll be honest. At first, I was like, "Oh man, I wanted the blue ones." Everything I own is practically blue. However, once I put these on, I was pleasantly surprised. The lacy pattern in soft browns and black is very flattering and the satin material is super comfortable and a big departure from my flannel and fleece obsession.
I was worried when I chose my size that I picked incorrectly. However, their sizing is very true to size. In fact, it might even be a bit oversized. Normally, when I choose PJs, I go up a size, but whatever pant and dress size you are, that's what you should order. I could have possibly even gone down a size. It took me a while to get this review up because no clothing review of any kind is complete without a wash test. I'm the girl who buys clothes and wears it before washing it because I am terrified it will shrink. I have very long arms and legs. However, I was quite happy when they came out of the washer and dryer the exact same size that they went in there.  
If you're looking for a unique gift for someone, figure out their personality and get a pair of these PJs. They are luxurious, fun and true to size. I can't think of anything better than that (unless they were all blue, of course).
BBM gives the Soma Intimates Personality PJs. . .

I wrote this review while participating in a blog tour by Mom Central Consulting on behalf of Soma Intimates and received a pair of Personality PJs to thank me for taking the time to participate.
Comments