July 16, 2009
I am not the "bar" kind of girl. I guess this is probably because I'm one of those people who has always preferred it when my foods don't touch. I don't like the mixing of ingredients in most cases. This has always baffled my children, seeing as how they practically live on breakfast bars, yogurt bars, fruit bars. . . I could go on. In fact, if I could have found meat bars at the points in their lives where they were protesting protein, I'm pretty sure they would have eaten them.
Chex Mix Snack Bars are obviously a bit hit in this family. My husband and the girls have devoured them, pretty much without chewing, since they arrived on our doorstep.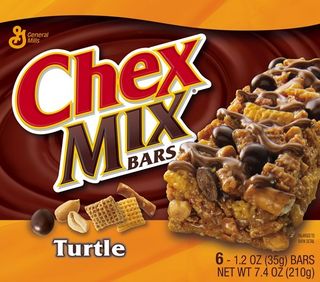 We tried the Chex Mix Bars in the "Turtle" variety. They include Caramel-Covered Corn Chex pieces, Wheat Chex pieces, Chocolate, Peanuts, and Pretzels. Maybe my whole aversion to anything "bar-related" had to do with the fact that there was never any chocolate involved, because these bars are definitely worth a try if you have snackers in the family.
Despite the fact that there's also this messy stuff in them, the bars stay together very nicely when eaten and I think they'll probably remain a staple snack in our household from now on. When something with chocolate in it says "Good Source of Whole Grain!" on the box, I'm in.
If you'd like to try them in your house, all you need to do is leave a comment below telling me how you like to unwind at the end of the day. What's your favorite comfort food? Three readers will be chosen to receive two boxes each of the Chex Mix Bars.
BBM gives the Chex Mix Bars. . .

Thanks to MyBlogSpark for letting us try them!
Comments